Dropping just a few pounds improves everything from sleep to sex
What springs to mind when you hear the words "Big 3?" NBA fans might think of Larry Bird, Kevin McHale and Robert Parish. Car buffs could point to Ford, GMC and Chrysler, while millions of Canadian cellphone subscribers might shudder and say Bell, Rogers, and Telus.
But there's another Big 3 that, unlike your wireless provider, may actually reduce your monthly bills. Which awesome Big 3 is this?
It's the Big 3 Benefits of Losing Weight:
Is any benefit better than this? Dropping just a few pounds can reduce joint pain, improve the quality of your sleep, and chase away fatigue and grogginess. Oh, and speaking of feeling better…
Your sex drive is affected by high blood pressure and other conditions that you're likely to have if you're overweight. Additionally, erectile dysfunction can be a problem for obese and overweight men. Plus, the people you have sex with will be all over a fitter, firmer partner. Need we say more?
You'll live longer.
You're feeling great, you're getting some, so why not stick around to enjoy it? Dropping pounds lowers the risk of life-shortening conditions such as heart attacks and sleep apnea, a sleeping condition in which your breathing starts and stops but seems to you like heavy snoring.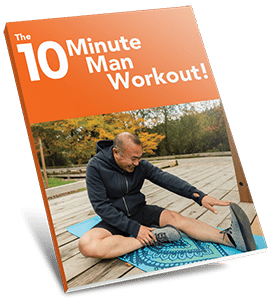 Free e-book
Start shrinking that spare tire in just 10 minutes!
Download this free e-book "The 10-Minute Man Workout!" to start shrinking your waistline in just 10 minutes a day.
Check the checkbox to receive more great tips each month.