"Better call a plumber. These pipes are gonna burst!"
As it turns out, you can get buff pipes with this simple exercise that uses nothing other than your own body weight and a stable chair. Dips tone the muscles that run along the backs of your upper arms (triceps), and if you do enough of them you can start asking your buddies — or your significant other — for a needle and thread. Why? 'Cause you're ripped!
If you're wondering how to get stronger arms without equipment, here's the scoop:
Position your hands shoulder-width apart on a stable chair or bench.
Slide your butt off the front of the seat with your legs extended in front of you.
Straighten your arms, but keep a slight bend in your elbows to work your triceps and ease-up on your elbow joints.
Slowly bend your elbows to lower your body toward the floor until your elbows are at a 90-degree angle. Be sure to keep your back close to your seat.
Once you reach the bottom of the movement, press down into the seat to straighten your elbows and return to the starting position. This completes one rep.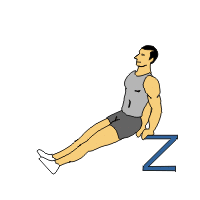 The beauty of this move is that you can do it just about anywhere: In front of the TV, at the park, at work, in a bus shelter, at the kids' ball game…just make sure your seat won't slip out from under you.
Dip plan
If you want a simple guide to keep you on track with tricep dips, try using this one:
Starting Level
Week 1: 2 sets – 5 reps
Week 2: 3 sets – 7 reps
Week 3: 3 sets – 10 reps
Pro Level
Week 1: 3 sets – 7 reps
Week 2: 3 sets – 10 reps
Week 3: 3 sets – 12 reps
If you want to make the most of your exercise, here's What You Should Eat and Drink After a Workout!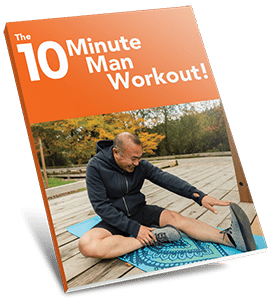 Free e-book
Start shrinking that spare tire in just 10 minutes!
Download this free e-book "The 10-Minute Man Workout!" to start shrinking your waistline in just 10 minutes a day.
Check the checkbox to receive more great tips each month.