CFL fans have some awesome cheers: "Oskee-wee-wee!" "Aaaaaargooooooooos!" and "Let's go H-2-O!"
Let's go H-2-O?!? Is there a new team (with a really weird name) or something? No, that's actually your BODY cheering every time your game-watching routine gets a little bit healthier. Here's how to make that happen with a few small, easy changes:
Drink water for the win!
Enjoying a beer and watching the big game may go hand-in-hand, but so does enjoying a beer and knocking back a glass of water. Chasing every alcoholic drink with some refreshing H20 helps your body process and eliminate alcohol, which will keep hangovers to a minimum.
Drinking plenty of water during and after the game also prevents headaches, fatigue, and dry mouth caused by dehydration. Another way to tell if you're dehydrated is to look at the colour of your pee:
Light Yellow: All good on the urine front. Nothing to worry about!
Dark Yellow: You're healthy, but you should drink some water soon.
Amber or honey-coloured: Darker pee is a sign of dehydration. Get some water into you ASAP.
Very dark, almost brown: You're likely dehydrated and need to get more fluids right away. As this could also be a sign of liver problems, go see your doctor if it doesn't lighten up after a day or two.
Check out the '10-Minute Man Workout'
Get active at halftime by doing the 5 easy exercises in this new ebook. That's right: 10 minutes is all you need for an equipment-free workout that can be in the comfort of your home. Pretty cool, right? Download the '10-Minute Man Workout' for free right now!
For each exercise, your goal is to do as many repetitions as you can in 2 minutes. Then you simply move on to the next one until you've conquered all 5! Bust out this 10-minute routine 3 – 5 days a week, and you'll feel better, look better, and reduce the chances of developing a whack of health problems.
Snack for the win!
The Don't Change Much team are such big fans of the CFL that we've created a special section on our website just for fans! What we don't love, however, is the thought of undermining healthy game-time exercise by eating too much junk food — the salty and deep-fried stuff — during the game. At home, there are plenty of delicious and nutritious options, such as spicy nuts, juicy grapes, and trail mix. Or try these easy recipes for Chili-Stuffed Sweet Potatoes and Steak Wrapped Vegetable Rolls. If you're in the stands, go with classic stadium snacks like peanuts in their shells and lightly-buttered popcorn.
Rest up before the big game
As well as sharing its excitement about hosting the 107th Grey Cup, Tourism Calgary is serving up a bunch of handy tips for making the most of the big game. One of the best: get a good night's sleep beforehand! As the organization rightly points out: "Game day prep can start pretty early and you don't want to have any energy left in the fourth quarter when your team may need you the most."
What kind of steps can you take to get the sleep you need? Download the free "How to Rule the Bedroom" ebook for a whack of easy tips on getting a healthy amount of Z's.
Have fun with your buddies!
As well as being a high-fiving good time, research reveals that hanging with your buds helps you recover from illness faster, combats depression, keeps you sharp as you get older, and helps you live longer. Plus, high-fiving yourself just isn't the same, right?
At the same time, being a sports fan can be good for your health in many different ways. Research has shown it can benefit your emotional, psychological and social well-being, boost your self-esteem, and make you feel more connected to other people. In short, following sports can work wonders for your mental game!
Last but not least, libido to spare!
Researchers have also found that guys' testosterone levels jump when they see their teams win. Testosterone is a male hormone that's linked to everything from extra energy to a stronger sex drive.
Put it all together on game days — a great sleep, easy exercise, tasty snacks, good times with buddies, and some fun in the sack afterwards — and it's no wonder you're such a big CFL fan!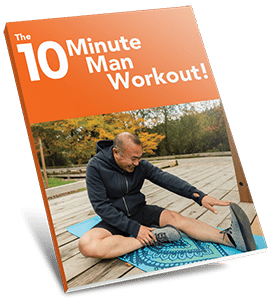 Free e-book
Start shrinking that spare tire in just 10 minutes!
Download this free e-book "The 10-Minute Man Workout!" to start shrinking your waistline in just 10 minutes a day.
Check the checkbox to receive more great tips each month.