We've all been there: A glorious win by our favourite team in the bag, we high-five our way into the kitchen only to find…what? A sad little sack of potato chips? A slice or two of soggy, greasy pizza? A few take-out chicken wings that look like they came from a pigeon?
Let's call it the thrill of victory…and the agony of awful snacks.
Well, it's time to say NEVER AGAIN! With the new "8 Delicious Recipes for a Healthier Game Day" ebook, you can easily turn those pitiful chips into outrageously tasty Cheddar Crunch Sticks. That pathetic pizza? Swap it out for Chorizo Baguette Bites. And those woeful wings? They can't touch Canadian Cheddar Chili when it comes to pleasing a crowd.
If you want to dip those Cheddar Crunch Sticks in something lip-smacking, you can forget about that weird yellow "cheese" goo that looks radioactive. From Awesome Avocado Hummus to Game-Day Guacamole, the easy-to-make dips in "8 Delicious Recipes for a Healthier Game Day" are sure to be slam-dunks with your buds!
Oh, and did we mention that the ebook is free? And that there's Championship Chocolate Fudge for dessert? BOOM!
So let's recap: Your team just won, your snacks are seriously delicious, and to top it off all eight recipes are healthy and nutrition-packed. Now THAT's a win-win-WIN!
Downloading the free ebook? Zero dollars and zero cents. Snacking like a champion while watching the big game? PRICELESS.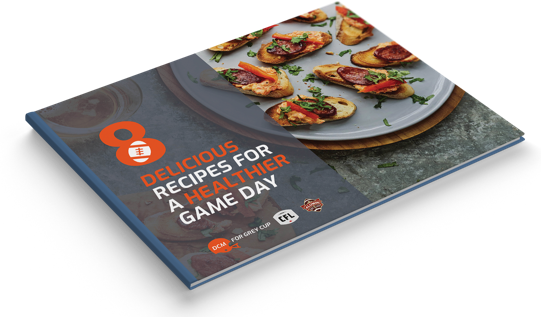 Free e-book
Want to make a full spread of crowd-pleasing game day food? Get the free handy booklet.
Grab this free e-book "8 Delicious Recipes for a Healthier Game Day" for healthier game day recipes that are sure to please a crowd.
Check the checkbox to receive more great tips each month.
In partnership with the Canadian Football League Alumni Association