Q: What do you call cheese that doesn't belong to you?
A: Nacho cheese!
The good news (after that bad joke) is that the mouth-watering melted cheese in this recipe for Epic Nacho is all yours — unless you choose to share with your lucky buddies.
Even better, shredded Cheddar and Monterey Jack are just the beginning. This gooey goodness fuses together a feast of delicious, healthy ingredients such as tangy guacamole, juicy chipotle chicken, lip-smacking salsa, creamy Greek yogurt, zesty jalapeño peppers…in short, your buddies will be blown away when you pull this snack-stravaganza from the oven during the Grey Cup playoffs!
Last but not least, these Epic Nachos are so easy to prepare — just chop and LOAD up the baking sheet!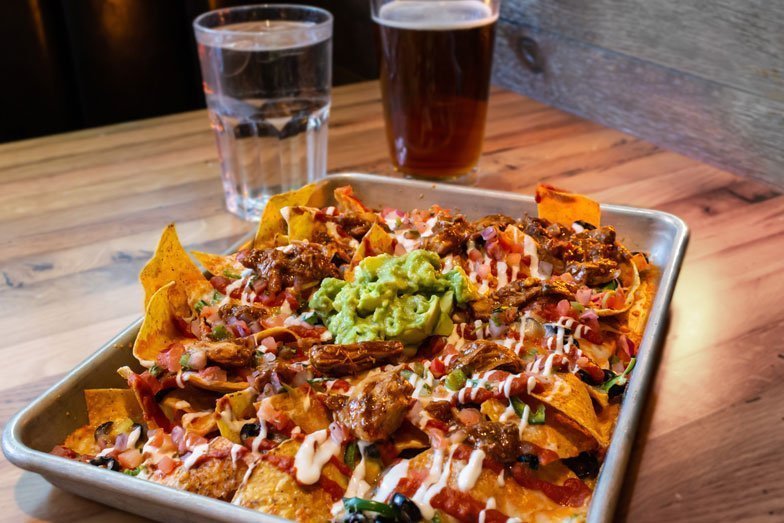 Epic Game Day Nachos
Ingredients
1 large bag of unsalted corn tortilla chips
1 large package of pre-shredded Mexican cheese (usually a blend of Cheddar and Monterey Jack)
1 small jar or tin of chopped Jalapeño peppers
1 small jar or tin of chopped black or green olives
1 medium-sized tub of Greek yogurt
1 red onion
1 green pepper
1 tomato
2 boneless skinless chicken breasts
1 tablespoon of cooking oil
2 tablespoons of chipotle chili powder
1 large jar of salsa
1 large tub of guacamole
Instructions
Warm the cooking oil in a pan on the stove. Cook the chicken breasts on medium heat, turning often, for about 10 minutes. Sprinkle the chicken with chipotle chili powder every time you turn it.
Using a cutting board, pull the cooked chicken into shredded pieces using a fork. Set the chicken-covered board aside when you're done.
Evenly spread HALF the tortilla chips on a large baking sheet, and cover them evenly with half the cheese. Bake in a 300-degree oven for a couple minutes, or until the cheese has melted.
Chop the red onion, green pepper, and tomato into dime-sized chunks, dump the Jalapeño peppers and olives into a strainer, and cover the chips and melted cheese with HALF the peppers, olives, onion, and chicken. Why only half? All will be revealed…
Pour the OTHER HALF of the tortilla chips on top of everything, and repeat Steps 3 and 4 with the remaining cheese, peppers, tomatoes, olives, onion, and chicken. That way, the toppings are spread evenly throughout the nachos. Sneaky, but SO effective!
Put the whole shebang in the oven for another 5 minutes.
Remove your Epic Nachos from the oven, let everyone admire their true epicness, let them cool for a couple minutes, and then serve them with man-sized bowls of salsa, guacamole and Greek yogurt for dipping. You are now officially THE MAN!
The #YearOfEpicFood!
If there was ever any doubt, these Epic Nachos highlight the fact that 2019 is the #YearOfEpicFood. (Well played, Kristina Costabile, well played…)
For more easy game-day recipes, keep the #YearOfEpicFood rolling by downloading the free "8 Healthy Game Day Recipes" ebook right now!
What is the best nacho recipe? Are these nachos missing anything? Go ahead and share your secret ingredients in the comments below…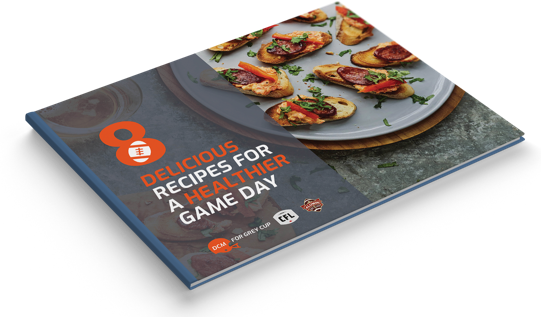 Free e-book
Want to make a full spread of crowd-pleasing game day food? Get the free handy booklet.
Grab this free e-book "8 Delicious Recipes for a Healthier Game Day" for healthier game day recipes that are sure to please a crowd.
Check the checkbox to receive more great tips each month.