Can you guess which of these things happen in Canada every 7 minutes?
A) A hockey team sings the national anthem.
B) Justin Bieber tweets.
C) Someone dies from heart disease or stroke (StatsCan 2011c).
If you guessed B, you're not too far off, but the real answer is C. Heart disease kills more Canadian men each year than any other illness. Yet despite this fact, many of us can't explain what heart disease is, or how to stop our hearts from becoming unhealthy.
What is heart disease?
Your heart is a fist-sized muscle that pumps blood and other nutrients to the rest of your body. Like the plaque that builds up on your teeth, plaque can also build up in the arteries that provide blood to your heart, thanks to things like cholesterol. If too much plaque builds up, it plugs and clogs the arteries and your heart doesn't get as much blood as it needs to function properly. You really don't want to be that guy.
How can I prevent heart disease?
Unlike the plaque on your teeth that can be removed with a toothbrush, a good floss, and a trip to the dentist, preventing and removing the plaque build up in your arteries takes a different approach:
Just don't smoke. Kick cigarettes to the curb.
First know your blood pressure, then control it. Check out our Blood Pressure 101 post here.
Avoid trans fats (partially and fully hydrogenated vegetable oils). Those artery-clogging fats are nasty.
Get moving. Even 15 minutes of walking 2-3 times per week drastically lowers your chance of heart disease.
Don't get fat. Guys, you need to keep your chest size bigger than your waist size. A waist size bigger than 38" spells trouble for heart disease.
Limit the cocktails. If you are having more than 15 alcoholic drinks per week, consider cutting it back to two drinks per day, with two days of the week entirely drink-free.
It's way easier to prevent heart disease from happening in the first place than it is to deal with it once it's there. Think of these prevention tips as a gift to your future self – you don't have to change much, but it'll make all the difference in the long run.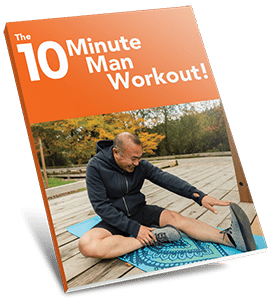 Free e-book
Start shrinking that spare tire in just 10 minutes!
Download this free e-book "The 10-Minute Man Workout!" to start shrinking your waistline in just 10 minutes a day.
Check the checkbox to receive more great tips each month.