Use family snapshots, sexy selfies and tight T-shirts as motivation
Picture a bunch of cavemen sitting around a campfire. One of them starts grunting about how he'd love to hunt, kill and eat a wooly mammoth. "Ugh!" his buddy replies. "Ugh ugh, ugh ugh-ugh-ugh."
Translation: Easier said than done.
The idea that wanting to do something is easier than doing it is old as time. It certainly comes up whenever we set out to drop a few pounds. The good news: The motivational tools you need are right inside of you.
Tip 1: Find your inner fire
Ask yourself a simple question: "Why do I want to lose weight?" The answer here should be all about you. Don't worry, you're not being selfish: Studies show you have a better chance of weight-loss success if you want to improve your own health, rather than giving in to outside pressure.
There are so many awesome answers. Maybe you want to turn heads on the street, in your kitchen, or at an upcoming class reunion. Or how about rocking that T-shirt like it's 1999? Maybe it's about having more energy to play with your kids, have fun with your buddies, and get busy with whoever notices that new physique. Last but definitely not least, how about living longer — for you and for your loved ones — and enjoying time with them more. To learn more about the amazing benefits of weight loss, click here.
Tip 2: Use your "why" as motivation
Enjoying a longer life with loved ones is a popular reason for losing weight — and rightfully so — but isn't seeing them in person enough? Thing is, your kids probably aren't around at work, and your significant other may not be there for the morning commute. So here's an easy tip: Find a photo of the brood and use it as your screensaver at work or as the background image on your phone. Then, when you feel those junk food cravings coming on, or want to take the elevator instead of the stairs, simply glance at the screen. (This also works with sexy selfies. Just don't use them at work!)
Likewise, if rocking a tight tee is your goal, find a few you like and use them as reminders. Hang one on your bedroom mirror, drape another over your chair at work, wrap a third around the headrest in your car, you get the idea. In moments of weakness, simply look to the shirt! (Or to the jeans you want to wear to that class reunion, or to the beer-league jersey that used to fit…again, you get the idea.)
With your "why" front-and-centre you'll never lack for motivation. Then, when you reach your weight-loss goal, you can celebrate like caveman. Mammoth steaks, anyone?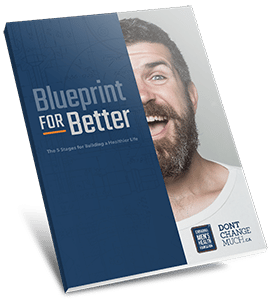 Free e-book
Are you thinking about making healthy changes? If so, we've got your back!
Grab this free e-book "Blueprint for Better: The 5 Stages for Building a Healthier Life" for tips on making healthy changes today.
Check the checkbox to receive more great tips each month.