If you can't find the time for a workout at the gym, this do-it-anywhere, equipment-free approach is for you. Take the gym out of the equation by using your own bodyweight as resistance and whip through sets of these seven easy exercises whenever the opportunity arises: At the bus stop, in the elevator, standing in line at your favourite brunch spot…whenever you have a few minutes you find you're spending on your smartphone.
If people stare, who cares? They'll be staring at your buff beach bod soon enough!
Calf raises
With shorts season upon us, this exercise will get your calves looking chiselled. Find a railing or bus shelter or some-such to use for balance, and follow along with the YouTube video below.
Burpee
This is the kind of sweaty, full-body exercise you can do after mowing the lawn or playing Mr. Fix It. The four moves are demonstrated below.
Lunges
Get fit and lunge your way to the bus stop. Lunge around the house. Lunge to the photocopier at work. It'll work your thighs, buttocks and hamstrings, so everyone in the office may start doing them once they ogle the results. Check out the demonstration below.
Chair dips
Waiting for a file to download? Hanging out on the front porch? There's no reason you can't lower yourself out of your seat and pump up your triceps in the process. Here's how.
Push-ups
This is a timeless classic because it works so well for building a big chest, deltoids and triceps. Make the most of a move that's like a bench press with no bench or barbells by checking out the video below.
Chin-ups
There's nothing stopping you from installing a chin-up bar in your office or garden shed doorway – if nothing else it'll make you look kind of badass – but this classic back and biceps builder can be done on playground equipment, tree limbs, goal posts…anywhere there's a stable (and safe!) horizontal support. The proper technique is shown below.
Plank
It looks easy – there's no movement or extra weight, after all – but holding a plank for a minute requires great shoulder stability and endurance in the abs, lower back, shoulders, neck and legs. Here's how to do it right.
Is there an anytime, anywhere exercise that works for you? Please share it in the comments below, and share this list with your muscle-building buds.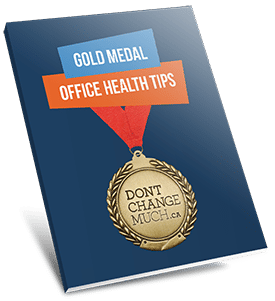 Free e-book
Are you thinking about being healthier at work? If so, we've got your back!
Grab this free e-book "Gold Medal Office Health Tips" for tips on how to be healthy at work.
Check the checkbox to receive more great tips each month.