The idea here is that a guy's paunch sticks out further than his "dick-do," making it impossible for him to admire his family jewels from a standing position (without a mirror, that is).
If you can relate (or can't see it), you may be getting a first-hand look at what obesity looks like and what obesity does to the body. A person is classified as obese when their body mass index (BMI) hits 30 and up. To easily calculate your BMI, click here.
Drop pounds, feel better, live longer
That BMI calculator is on the Canadian Diabetes Association website for good reason. Along with drastically increased risk of heart attack, colon and prostate cancer, low testosterone and erectile dysfunction, type 2 diabetes is just one of many reasons why obesity is a problem. That's right: First you can't see your junk, and then it gets worse!
Flip the script by losing weight, however, and you slash the risk of all these health problems.
Easy tips for lowering your BMI
Since getting taller is probably off the table, the best way to lower your body mass index is to drop a few pounds by putting a few of these awesome tips into action:
Now that you've discovered one tasty dish that'll help you achieve your weight-loss goals, why not add a bunch more to your arsenal?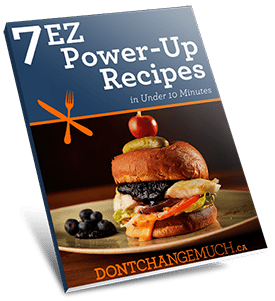 Free e-book
Are you thinking about boosting your energy with tasty and satisfying recipes?
Grab this free e-book "7 EZ Power-Up Recipes" for energy-boosting, satisfying, recipes ready in under 10 minutes.
Check the checkbox to receive more great tips each month.