The push-up is like the Swiss Army Knife of exercises – it works the entire upper body in one motion. It's also one of the most effective ways to build up the chest, arms and shoulders at the same time. Check out these three simple push-up methods that are good to do anywhere, anytime. The best part? No gym or workout equipment required.
1. The angled push-up: Start out with your hands on a sturdy surface and angle your body at 45 degrees to the floor. An office desk, park bench or even the kids' slide in the backyard will do the trick.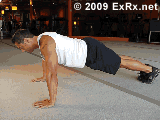 2. The classic push-up: Move to a regular pushup on the floor. Arms should be shoulder width apart and your back straight. If you're struggling, try push-ups from the knees to start.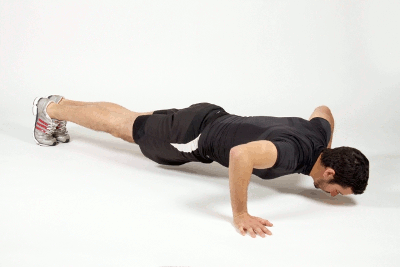 3. The wide grip push-up: This one is more challenging, so having your knees on the ground is a great way to start. Hands should be positioned beyond shoulder width with your fingers pointing frontward. A wider grip stretches your pecs, works your rear shoulders and engages different back muscles.
Pro tips:
In all of these positions, imagine balancing a broomstick on your back. This helps keep your body aligned to avoid injury. Slow and steady gets you extra points here.
To really blast your chest do all three push-up variations.