How to live healthier at home while kicking some coronavirus butt
Social distancing may not be a barrel of laughs, but at least you don't have to do much to make it happen. As a new COVID-19 meme points out: "Your grandparents were called to war. You're being called to sit on your couch. You got this!"
If you wanted some extra downtime, there's a good chance you've got it as the coronavirus shuts down workplaces across Canada. Now it's time to make the most of the next few weeks (or months) at home by fitting these small, healthy changes into your daily routine:
Get active outside
Social distancing is about avoiding group gatherings and keeping at least two metres of distance, or about four steps, between yourself and anyone who isn't a member of your household. This doesn't mean you have to stay holed up in your home.
Getting outside for some easy, four-steps-apart exercise is just as awesome and healthy as it's always been! It might be even more awesome now, given that active indoor options such as gyms, bowling alleys, and swimming pools are likely closed. That's where these easy outdoor activities come in:
Walk it off
Can walking make you fit? Can walking tone your body? Can walking burn belly fat? The answer to all three questions is a resounding yes! Just keep your distance from other walkers.
Running man
By alternating between five-minute walks and runs, a half-hour work burns more than 250 calories and helps you shed body fat more quickly than just walking.
Pedal power
There's never been a better time for Canadian guys to take up cycling. Cities and towns across the country are spending millions of dollars a year on adding bike lanes and other cycling infrastructure, which in turn leads to faster, safer rides.
Up your game in your kitchen
Thankfully, social distancing does NOT include your significant other. So if you're hoping extra downtime leads to extra bedroom fun, it's worth noting that guys are deemed to be sexiest when they're working magic in the kitchen. It sure doesn't hurt that preparing meals at home is cheaper and healthier than takeout. Add these easy tools to your arsenal, and home cooking can be tastier too!
Chop like a boss
A little knife know-how makes cooking for yourself and for others so much easier, safer, and more enjoyable.
Use the right tools
Kitchen jobs are made quicker and easier by using the proper tools and utensils, most of which are available at supermarkets.
Try a meal delivery service
Restaurants may be shuttered, but meal kit delivery services are going strong. These subscription DIY services can help you eat healthier, save money, and put your new kitchen skills to delicious use!
Ready to butt out
Did you know that COVID-19 can be more dangerous to smokers than to non-smokers? Add that to the LONG list of reasons why kicking the smoking habit is the single healthiest change you can make.
It's not a small change or an easy one, especially with this pandemic hanging over your head. That's why it's a great idea to take this time to think about your reasons for quitting — stopping your kids from smoking, saving big bucks, preventing erectile dysfunction, the list goes on — so that when this thing is over you're ready to put those thoughts into action!
If you're wondering how to know you're ready to quit smoking, we've got your back with the free "Kick-Butt Guide to Kicking Butts: A Guy's Guide to Going Smoke-free" ebook. Download it today and start your quit plan!
Sign up and receive our easy tips directly to your inbox
Even more email is awesome…said no one ever! That is, unless the email in question provides easy health tips for having more energy, boosting your sex drive, sleeping like a king…in short, for feeling healthier and happier. That's what our Weekly Health Tips are all about: Less spam, more BAM!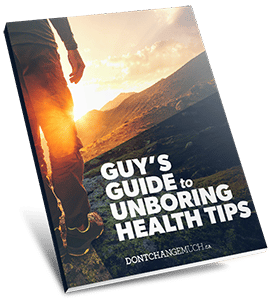 Free e-book
Are you trying to live a healthier life? If so, we've got your back.
Grab this free e-book "Guy's Guide to Unboring Health Tips" right now. You've got nothing to lose and EVERYTHING to gain!
Check the checkbox to receive more great tips each month.
---
This article is made possible by the support of generous sponsors.