When you consider that our bodies, and particularly our muscles are made of 60% water, it's a no brainer that keeping hydrated is so important. Not only does water give you a boost of energy, it helps your body maintain normal functions like blood circulation, food digestion, and joint lubrication.
Start a new health habit and drink water:
All you have to do is drink 5 tall glasses of H2O throughout the day (equal to about 2.5 litres). Start when you first get up (yes, even before your morning coffee!) and finish with a final glass a few hours before bed.
If you drink this amount, you'll be 54% less likely to suffer a fatal heart attack than a guy who drinks just two glasses, according to scientists at Loma Linda University.
What tips do you have for drinking more water?
Source:
Chan J, Knutsen SF, Blix GG, Lee JW, Fraser GE. Water, other fluids, and fatal coronary heart disease: the Adventist Health Study. Am J Epidemiol. 2002 May 1;155(9):827-33. http://www.ncbi.nlm.nih.gov/pubmed/11978586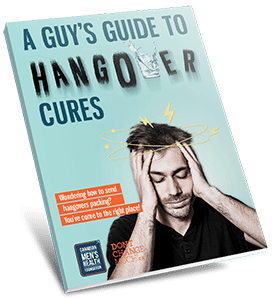 Free e-book
If you're wondering how to get rid of your hangovers, we've got your back.
Grab this free e-book "A Guy's Guide to Hangover Cures" for quick tips to get rid of your hangover.
Check the checkbox to receive more great tips each month.