Cassie Campbell-Pascall
Three-time Olympic medalist, seven-time World Championship medalist.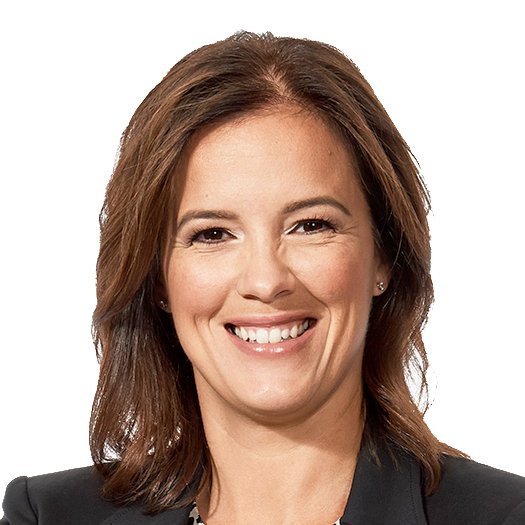 Cassie's health tip
Get outside. Our family likes to go for bike rides. We also play in the backyard and often cycle to parks that are a little farther away from our house. In the winter we like to ski and find ways to get out there and enjoy other activities in the snow. Going outside is very much a part of a daily routine with our family.
Cassie Campbell won 21 medals with Canada's National Women's teams, including 17 gold medals and four silver medals.
Hockey Background
Only captain, male or female, to lead Canada to two Olympic Gold Medals
2 Olympic Gold Medals (2002-Salt Lake, 2006- Turin)
1 Olympic Silver (1998-Nagano)
6 x World Champion (1994, 1997, 1999, 2000, 2001, 2004)
1 x Silver medalist at Worlds (2005)
Asst. Captain of Canada's National women's team from 1997-2001 – given a letter in her second World Championship
Has won 21 medals in International play for Canada (17 gold, 4 silver)
1997 All- Star in the World Championship
Only player to win the Esso Women's National Championship and the NWHL Championship in back to back years
Played with the Calgary Oval X-Treme winning the inaugural WWHL cup in 2005 (captain)
Gold Medals with Team Alberta (2003/2001) and gold with Toronto Aeros in 2000
Named Top Forward at the 2000 Esso Nationals
Captain of the University of Guelph Gryphons and won the OWIAA University Championship in 1995 – First team all-star in 1995, 1996
---
Personal
Daughter of Donald and Eunice – has two brothers Jeff and Rick
Mother Eunice played nine professional football games in 1969
Married to Brad Pascall – Assistant General Manager for the Calgary Flames
Honor Sociology degree from the University of Guelph
Ran an Annual Street Hockey Tournament in Calgary for Ronald McDonald House Southern Alberta that raised over 3.5 million dollars
Proud Supporter of CARE Canada
Has worked for the Rogers Sportsnet, Flames TV, Fan 960 in Calgary, NHL Network, CBC
First woman to do color on Hockey Night in Canada on Oct. 14/2006 Leafs vs. Flames
Currently works for TSN and CBC's Hockey Night in Canada
Worked with Peter Mansbridge for CBC on the 2010 bid announcement
Does all the female Hockey Canada coverage for TSN
Along with Hall of Famers Bobby Orr and Mike Bossy, Cassie participated in Chevrolet Safe and Fun Hockey for 16 years
Employed by McDonald's Canada
Helped start the Scotiabank Girls Hockeyfest
March 14th is Cassie Campbell Day on Prince Edward Island
Joined Peter Mansbridge live on CBC for the Vancouver 2010 announcement
The Cassie Campbell Community centre in her hometown of Brampton, Ont – 165,000 sq. ft. sporting complex – opened on Sept. 12/2008
Named the Toronto Sun Sportsperson of the year for 2006
Wrote a book – Children's book titled HEART
Board Member of CODA (Calgary Olympic Development Association)
Named one of Canada's top 20 Most Influential Women in 2006
Inducted into the Alberta Sports Hall of Fame in 2007
Oct. 25/2007 – Inducted into Canada's Sports Hall of Fame – first female hockey player inducted
Honorary Doctor of Laws Degree from University of British Columbia
Inducted into the University of Guelph Sports Hall of Fame
TSN – first live hockey broadcast from China with Dave Randorf at the 2008 women's world hockey championship
Board Member of the Canadian Sports Hall of Fame
Canadian Olympic Committee Executive Member of the Athlete Council
Inducted into the Canada Games Hall of Honor in 2009
First women and player to receive Order of Hockey in Canada alongside Gordie Howe, Wayne Gretzky, Jean Beliveau and Gord Renwick
Received the Queen's Diamond Jubilee from Prime Minister Harper – the highest honor from government
First woman to be an analyst on a gold medal game – did so in Sochi for Men's gold medal game on radio.
Broadcast 2 Olympics – 2010 and 2014 in hockey