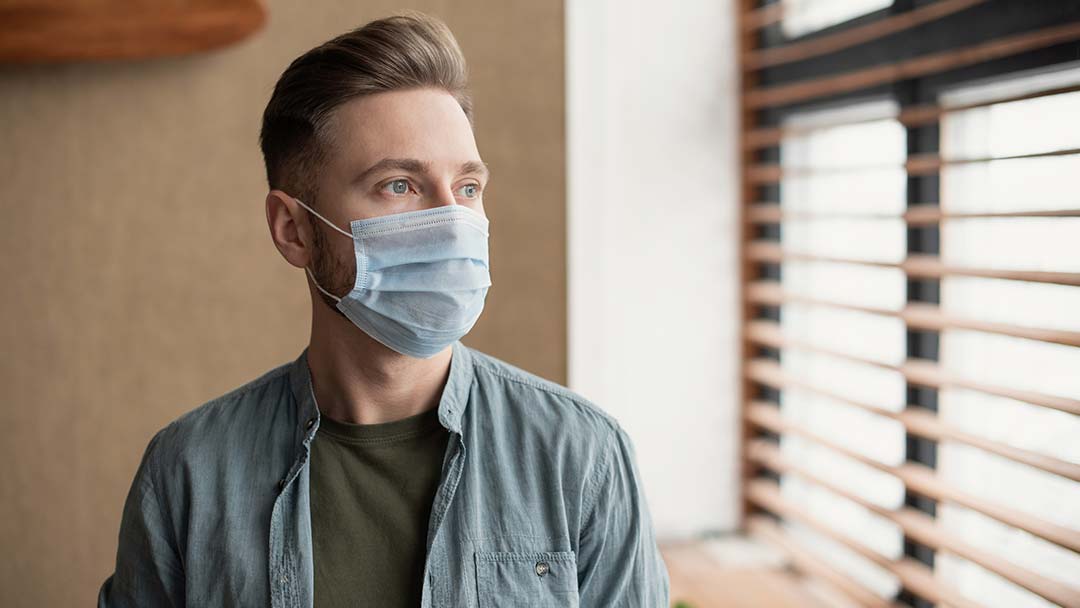 Guys don't always agree. Best hockey player of all time? Up for debate. Die Hard vs. Die Hard 2? Up for debate. You get the idea.
That said, the things we can all agree on include:
1. The COVID-19 pandemic is a pain in the ***.
2. It would be great to get some relief from that *** pain.
Thankfully, getting to know the pandemic better, and learning how to handle it by making a few small changes to your daily routine, both go a long way to achieving Point No. 2.
Impact of COVID-19 on Canadian men
As of May 1, 2021, more than 1.2 million Canadians have tested positive for COVID-19, with about 2 percent of those people dying as a result. Two percent may not sound like a lot. Still, with COVID fatalities topping 24,000 in Canada, this small-seeming number represents a terrible tragedy.
Compared to women, research shows that men face almost double the risk of developing the severe form of COVID-19 and of dying from it. While this is partly due to genetic factors, it is also caused by behavioural tendencies such as men working outside the home more often than women, men smoking more cigarettes and drinking more alcohol, and men being less apt to seek medical attention. Likewise, more men suffer from pre-existing conditions that increase the risk, like heart disease, high blood pressure and diabetes.
At the same time, millions of men who haven't contracted COVID-19 are being severely affected both physically and emotionally by the widespread disruption to normal existence and its impact on their social lives and livelihoods. On that note…
The mental health impact of COVID-19
From fuelling worries about jobs and finances to loved ones and infection, the pandemic affects men's stress and anxiety levels in this country. The Centre for Addiction and Mental Health has been conducting an ongoing study to understand the mental health of Canadians during COVID-19, and the most recent results show:
17% of Canadian men said they feel more anxious
31% said they were drinking more alcohol than usual
18% said they were experiencing loneliness at least three days every week
18% reported feeling more depressed
The Government of Canada provides support for Canadians, noting that it's normal to feel sad, stressed, confused, scared, or worried in a crisis. People react in different ways. Some common feelings include:
A sense of being socially excluded or judged
Concern about their children's education and well-being
Fear of getting sick with COVID-19 or of making others sick
Worry about losing their job, not being able to work, or finances
Fear of being apart from loved ones due to isolation or physical distancing
Helplessness, boredom, loneliness, and depression due to isolation or physical distancing
Tips for coping during the pandemic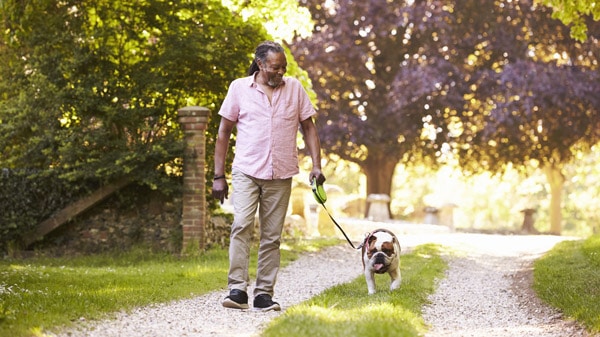 Get active outdoors
On the one hand, a lack of physical activity is associated with a higher risk for severe COVID-19 outcomes. On the other hand, fresh air paired with activity is a recipe for reducing stress and improving mental health. Start small by going for a walk around your neighbourhood or playing with your kids outside. Keep it simple! You can build up to more extensive workouts by simply getting more active and moving your body.
Get a pet
Research suggests that dog owners' heart rate and blood pressure are steadier and moderate more quickly during times of stress than people who don't have dogs. This calming effect reduces the adverse effects of stress on your mind and body.
Owning a dog is also associated with lower cholesterol levels and lower blood pressure. This is likely because of dogs' calming effect and that dog owners tend to get more exercise.
Pets provide a sense of calm that can help you handle stress. In one study, cat owners who performed a stressful task showed less stress in the company of their pets than in the company of friends.
Experts also point out that the loving connections between cats and their owners can help owners cope with stress by reducing feelings of loneliness, providing a sense of purpose, and taking their minds off their troubles.
Take a deep breath
By lowering stress, deep breathing can improve your quality and quantity of sleep, help keep your weight in check, reduce the risk of a heart attack—the list of benefits goes on and on. Try this easy stress-relieving exercise.
Schedule video calls with friends
Being unable to get together with buddies is one of the lamest downsides of the pandemic. Good thing there's so much free software for hosting group video conferencing calls. Check out these options for getting an online party started!
Meet and greet
Another downside of the pandemic is the "Zoom fatigue" caused by too much screen time. That's why it's so important to explore different ways to safely make connections with people.
Reconnect with your partner
The pandemic isn't making it any easier for guys to connect with their significant others. According to a recent Angus Reid poll, the number of Canadians who suffer from loneliness and social isolation has increased from 23 percent pre-pandemic to 33 percent as of late 2020. Meanwhile, the number of Canadians who don't suffer from either dropped by nearly half, from 22 to 12 percent.
If you're looking to feel more connected to your partner, check out these easy tips from Lindsay Killam, a registered counsellor providing private video appointments at TELUS Health MyCare™. You can also check out these six pointers from researcher John Gottman, who is pretty much the guru of solving relationship problems.
Create a daily routine
Structure and routine give us a feeling of control that counters the uncertainty fueling stress. This is especially important during the pandemic, with so many people working from home and changing their usual routines. Check out these easy ways to reboot your routine.
Get a good sleep
Our bodies need to know when to prepare for sleep and when to prepare for waking. Yet, the lack of a regular routine during the pandemic is causing people to stay up and sleep later than they normally would. Here are some easy ways to get the seven to nine hours of nightly sleep you need to stay healthy.
COVID-19 Vaccination Q&A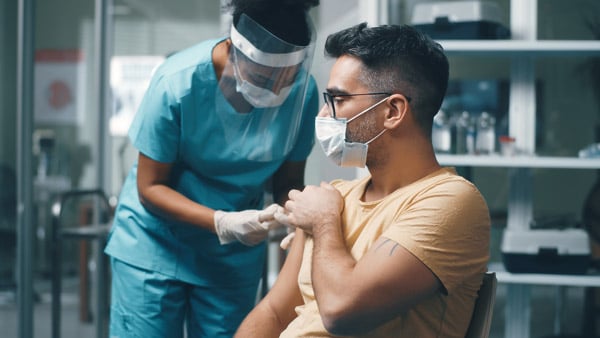 Q: Who should get the COVID-19 vaccine?
A: Anyone who can receive a COVID-19 vaccine should get one. Right now, that is anyone 12 years of age and older in Canada. Currently, the only people who should not get vaccinated are people under 12 years of age or people who have known allergies to the vaccine ingredients. Anyone who is immunocompromised should talk to their doctor about the best plan of action for them.
Q: Why should I get the COVID-19 vaccine?
A: Besides providing you with protection from the virus that causes COVID-19, getting the shot provides protection for people who can't get vaccinated, such as children under 12 years of age and some immunocompromised people.
By getting vaccinated, you help Canada get closer to herd immunity, which happens when a population is immune either through vaccination or immunity developed through previous infection. It's kind of like when you're watching National Geographic and see lions on the hunt and then the bigger, stronger elephants create a shield around the smaller elephants to protect them from the attack because the smaller elephants could never protect themselves on their own.
Q: When and where can I get the COVID-19 vaccine?
A: Depending on your age, type of work you do, and where you live, your ability to get the COVID-19 vaccine will be different. Here's the plan to distribute vaccines in Canada and more information on getting your vaccination in your province or territory:
Q: Can I get COVID from the COVID-19 vaccine?
A: No. You can't get infected with COVID-19 from the COVID-19 vaccine. The vaccines available in Canada can't cause the disease they're designed to protect you from.
Q: What happens after your first shot?
A: If you've already received your first dose, you may be wondering what comes next. Depending on where you live, you'll be able to get your second dose 8-16 weeks after your first dose.
You may have received the following email or text message from the BC government:
"Records show that you received AstraZeneca as your first vaccine dose. You're one step away from being fully vaccinated. Second dose invitations will start being sent 8 weeks after your first dose."
When it comes to your second dose in BC, you can choose one of these options:
Get AstraZeneca/Oxford at a pharmacy. The pharmacy that provided your first dose will contact you to book an appointment. No action is required on your part.
Get Pfizer-BioNTech(mRNA) or Moderna (mRNA) at a vaccine clinic. You will receive a text or email letting you know it is your time to book.
To find out how to book your appointment and more information about your second vaccine shot in BC, please visit https://gov.bc.ca/dose2#az.
Q: Should you be concerned about the AstraZeneca/Oxford vaccine?
A: The short answer is no. Dr. Bonnie Henry, BC's Provincial Health officer, is reassuring everyone that the AstraZeneca vaccine is safe and has released this video:
Q: Is it safe to mix the different COVID-19 vaccines?
A: Canada is now recommending to mix and match the AstraZeneca/Oxford, Moderna, and Pfizer-BioNTech COVID-19 vaccines.
If the first vaccine you got was from AstraZeneca/Oxford, then your second vaccine can be from AstraZeneca/Oxford, Pfizer-BioNTech, or Moderna. If the first vaccine you got was from Pfizer-BioNTech or Moderna, it is recommended to complete your second dose with either one of these two mRNA vaccines. At this time, these vaccines are only interchangeable in this particular way. Read more about the interchangeability of the vaccines here.
Based on research from Spain and the United Kingdom, mixing shots is safe and effective. Here's more information about trigger point immune responses.
Q: Are there side effects I can get from the COVID-19 vaccine?
A: Some side effects people may experience are often mild and go away within a few days. The most common side effects are redness, soreness, or swelling where you received the shot and feeling tired, headaches, fever or chills, body aches or sore joints.
Q: How is the COVID-19 vaccine administered?
A: The COVID-19 vaccines available in Canada, at this time, are given as an injection into your muscle. Most people will get the injection in their arm. Some vaccines are given in two doses, and others are given as one dose. Each dose of the Pfizer-BioNTech COVID-19 vaccine, Moderna COVID-19 vaccine, and AstraZeneca/Oxford COVID-19 vaccine are given several weeks apart. The Johnson & Johnson COVID-19 vaccine is given in one dose.
Q: How does the COVID-19 vaccine work?
A: The first dose helps the immune system create a response against the virus, and the second dose further boosts the immune response. Vaccines that come in a single dose aim to create a response strong enough at one time so that a second dose is not required.
Both the Pfizer-BioNTech and Moderna COVID-19 vaccines are messenger RNA (mRNA) vaccines. These vaccines contain instructions to make a protein that triggers our immune system to create antibodies against COVID-19.
The Johnson & Johnson and AstraZeneca/Oxford COVID-19 vaccines are viral vector vaccines. They deliver information to our cells by using a harmless adenovirus. The vaccine instructs our cells to make the specific protein it needs in order to trigger an immune response.
To clear things up, the adenovirus used in these vaccines are viruses that can cause the common cold and have been used for decades as a way to deliver instructions for proteins.
If the real virus ever enters our body, in the future, our body will trigger an immune response in order to fight the infection regardless of which vaccine we received.
Q: How protected am I after the first dose of the COVID-19 vaccine?
A: The Pfizer-BioNTech COVID-19 vaccine was up to 52% effective after the first dose and up to 95% effective after the second dose. The Moderna COVID-19 vaccine was up to 80.2% effective after the first dose and up to 95.6% effective after the second dose. After the first dose of the AstraZeneca/Oxford COVID-19 vaccine, it was shown to be up to 62% effective vs. up to 70-80% effective after the second dose.
For all the two-dose vaccines, it's important to receive both vaccine doses in order to get the maximum benefit and be effective long-term.
The Johnson & Johnson COVID-19 vaccine is a one-dose vaccine that showed an overall efficacy of up to 66% and up to 85% efficacy in severe cases.
Q: Can I still carry and spread the virus if you've been vaccinated for COVID-19?
A: After you get vaccinated, it's still possible that you can get infected with COVID-19. This could be because you were infected just before getting the vaccine or because you got infected during the period you received the vaccine to when the vaccine developed enough immunity in your body. Usually, the vaccine takes a few weeks to help your body build its defences.
Q: Is it better to get the COVID-19 vaccine or get the actual virus to build my immunity?
A: The best way to protect yourself from the COVID-19 virus is to get vaccinated. While not everyone who is infected with the COVID-19 virus will die, many people can get severely ill, may be hospitalized, and may even experience permanent organ damage.
The risk of trying to build our own immunity through exposure to the virus vs. getting vaccinated isn't worth the damage it can do to your overall health. Simply put, getting the COVID-19 vaccine is much safer than risking infection from the actual virus.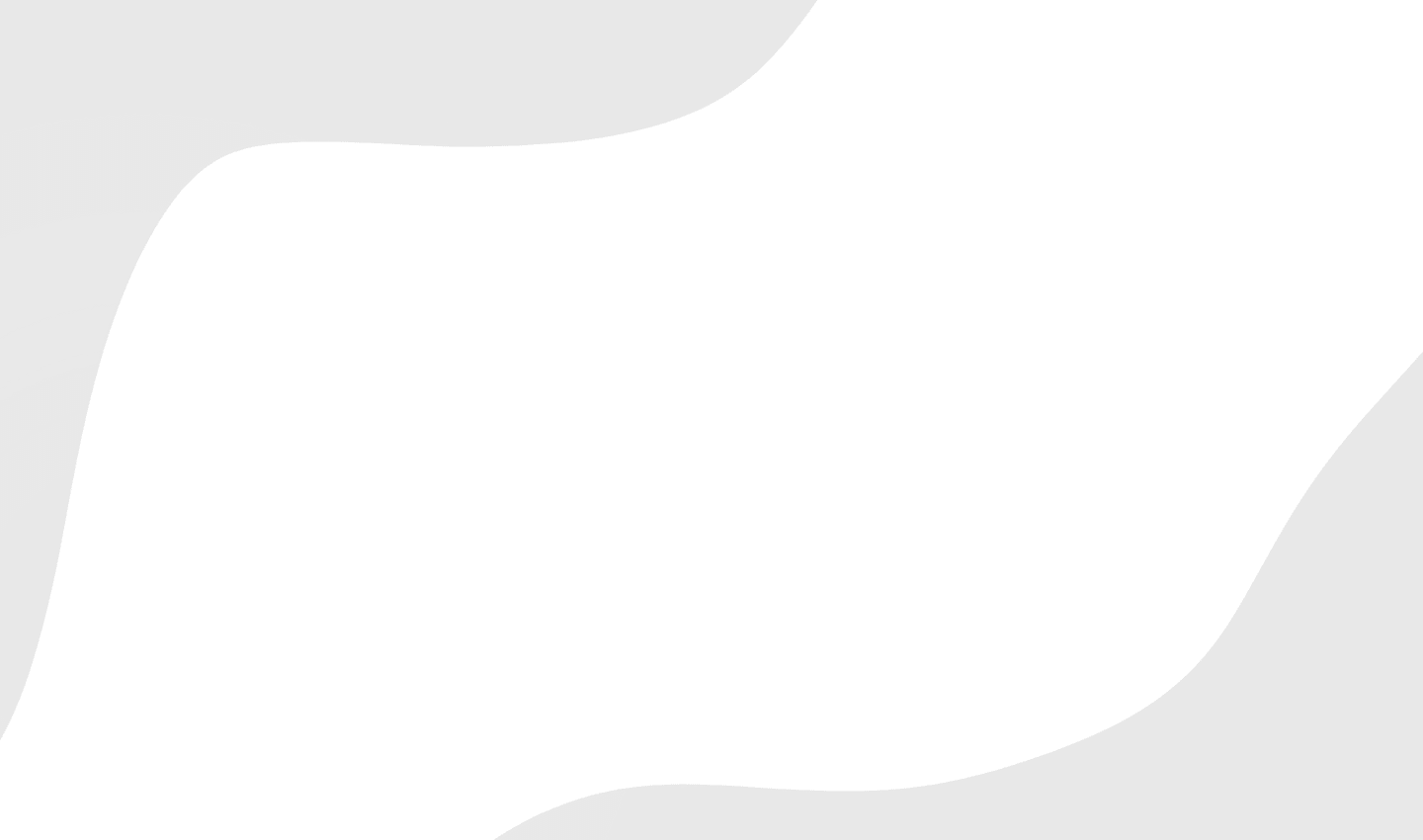 Men's Health Checklist
Find out what tests you need and when. Stay up-to-date on screening, exams and vaccines, and assess how stress impacts your mental health.