If there were a Nobel Prize for camping, it would have to go to the genius who came up with the "instant tent."
These unfolding beauties are available in a range of sizes and prices from most department stores or outlets that sell outdoor gear. Pitch one in your backyard, and you and your kids can camp out under the stars with next to zero packing, unpacking, and with all the comforts of home just steps away.
Imagine sharing scary stories while roasting marshmallows on the barbecue and eating s'mores huddled around the warm glow from a lantern. And if you're eating marshmallows, remember that moderation is key. As a dad, these are the priceless moments you're going to cherish and that your kids will remember forever. The best part is that instant camping also leads to a number of health benefits: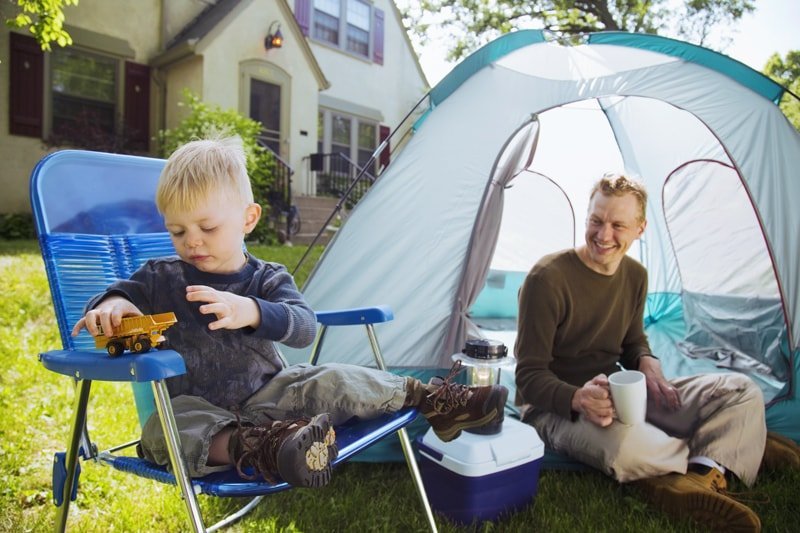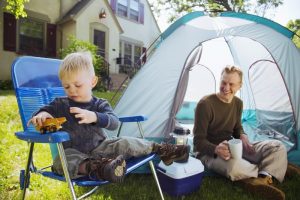 1. Being social
Studies show that strong family bonds and other social connections improve your mental wellbeing and can help guys live longer. Plus, you can't tell ghost stories to yourself, right?
2. Unplugging
Sure, your instant tent may get Wi-Fi, but that doesn't mean you have to connect. Shrug off stresses that can negatively affect your mindset and make your backyard campsite a phone-free zone. It'll be that much easier to enjoy the moment!
3. Better sleep
Sleeping and waking according to the sun's natural cycle has been shown to improve overall sleep quality. Rise and shine!
4. Trying new things
Setting up your instant campsite may not offer much of a physical workout, but it delivers plenty of brain-boosting value. Studies show that new experiences like this help keep guys' brains healthy and sharp.
5. Getting some sun
Spending time in the summer sunshine provides a healthy dose of vitamin D, which is important for keeping your bones strong and your immune system purring. Just make sure everyone uses sunscreen.
Do you have any camping tips you'd like to share? Leave them in the comments below!
References:
http://well.blogs.nytimes.com/2008/06/04/socializing-appears-to-delay-memory-problems/?_r=0
http://www.npr.org/sections/health-shots/2014/05/05/309006780/learning-a-new-skill-works-best-to-keep-your-brain-sharp