Anxiety is very common in our hectic lives. Many men stay busy to try and stop fears and concerns from festering, but these issues don't go away.
Instead of feeling helpless, know that there is a light at the end of the tunnel. Follow the five steps listed here, and you can show anxiety the door and kick it in the butt on the way out!
Step 1: Identify anxiety
Anxiety in men can be especially problematic because we are less likely to seek help or even understand and acknowledge the importance of dealing with it. That's why simply identifying our worries is key: It allows us to question their validity. Right off the bat, make a list of your worries and fears. You might be surprised, in a good way, simply by listing them.
Step 2: Take a few quiet moments for yourself
You don't have to take seminars or even meditate. It can be as simple as spending a few quiet moments every day — you can do this on your lunch break, while you're in the shower, or during your drive, or bike ride to work. The key is becoming aware of your thoughts and emotions.
Step 3: Talk it out
Talking through your worries with a friend or family member — or in some cases, your family doctor or a professional counsellor — can be enormously rewarding and helpful. Don't let pride stand in the way.
Step 4: Engage your mood-boosting endorphins
Exercise burns away stress-inducing chemicals and can produce mood-boosting endorphins. Any exercise will help, but getting into a daily routine that's at least 20 minutes long will make the most of your efforts.
Step 5: Sleep = happiness
Getting enough Zs is one of the best ways to reduce anxiety. By practising good sleep hygiene, the rest of these steps — and the rest of your life for that matter — will fall into place that much easier.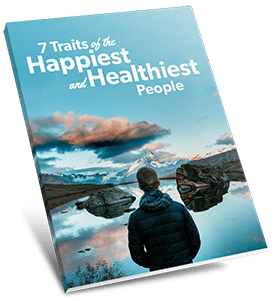 Free e-book
If you're thinking about increasing your energy and waking up happy, we've got your back.
Download the "7 Traits of the Happiest and Healthiest People", to increase your energy and wake up happy.
Check the checkbox to receive more great tips each month.