You've seen those guys that are 40 and look 60? Well here's some ways when you get to be 60 you can still look 40.
Typically, men aren't great at incorporating healthy ways of stress management. We often develop personality patterns that make it easier for us to deny our stress rather than finding sustainable sources of anxiety relief. I see men brag about how busy we are and wear it like a badge of honour. If we have a thousand things to do and our lives are busy, busy, busy we must be important, right?
You can pay attention to your stressors now, or you'll pay later. Many men just bury their heads or power through using alcohol, Netflix, porn, or prescription drugs to numb or distract away from their emotions. Stress relief for men is infinitely harder to access when you don't acknowledge what is challenging you.
In showing many men how to relieve stress in their lives, I start with a few simple processes.
Develop a relationship with your stress and anxiety
Acknowledge your stress, give it a name. You can't get stress relief or anxiety relief if you don't know yourself or what is stressing you. For myself, I tend to be tenacious, driving myself hard until I complete an article or YouTube video. I'll stay up late, ransack the fridge like a frantic dumpster raccoon, and skip the gym to meet a deadline. When I am pushing myself, I call that part of me "Relentless Rusty". This helps me laugh at myself and bring awareness to the fact that RR is only a part of me that drives me a little too hard sometimes. Acknowledging my stressful side in a fun way helps me see it and separate from it a little so I can give myself a choice to be RR or not. I get tremendous stress relief almost instantly when I just listen to myself.
Talk about your stress
Be honest with how your version of "Relentless Rusty" sucks the life out of your life. Ideally share it with your partner or trusted friend, but at the very least acknowledge it to yourself. Sometimes I'll even have a fun conversation within myself saying things to RR like "hey Rust, do we really have to live like this?" His answers are funny and illuminating. RR got me through the endless 16 hour days of medical school when I was 25, but that trait does not reduce stress for me in my 50s.
Take a deep breath in, and hold it
When we push ourselves too hard, our sympathetic/fight or flight nervous system engages and we breathe like we are being stalked by a cougar, and not in the good way. Short, rapid, shallow breathing tells your brain you are in threat and as long as your brain perceives threat you will continue "threat breathing". This type of breathing pattern affects the mind and makes you perceive the world as more stressful than it really is.
How to break the cycle
Here's how to break that cycle. First, exhale all the air out of your lungs. Inhale deeply and specifically expand your upper chest and hold your breath for 5-10 seconds. Yes, HOLD your breath while in full expansion of your upper chest. This holding affirms YOU have taken control of your breath and the anxiety is not breathing for you anymore. Further, the expansion of your upper chest sends a neurological signal of safety to your brain, the opposite of the constricted chest we experience when we are stressed, or being cornered by a cougar.
For the most part, we humans have repetition and the appearance of certainty in our lives. But with growing political and economic instability looming in the world at large, and our personal lives becoming more intensely affected by technology and the need to do more in less time at work, our sense of stability and certainty is declining rapidly. You know who cares less about your stress management than you do? Everybody. Anxiety relief is your responsibility, especially since the trend of increasing stress in the world is not likely to ease anytime soon…
"Son, your ego is writing cheques your body can't cash!"
This increasing uncertainty creates a physical and mental state in our bodies and brains. In response to uncertainty and unpredictability, we secrete the chemicals of stress: adrenalin and cortisol. Adrenalin and cortisol give us a turbo boost when we need it, but if we keep hitting the turbo button, you can crash and burn in a much shorter time than you may think. Slam the turbo button too many times (Think TOP GUN quote "son your ego is writing cheques your body can't cash") and you'll become irritable, stop looking after yourself, and generally become LESS productive over time. Your stress will worsen and your relationships will suffer, too.
We men take pride in kicking butt when our backs are to the wall. But the body and mind have limits and we have never lived in a time with so much change. We need our turbo button and the adrenaline it secretes, but if we rely on it too much we'll start to pay the price.
Adrenaline is helpful to mobilize our mind and muscles, like when we intercept a pass and have a breakaway to our opponent's net. But you can only press the turbo button so many times before the body and mind start to fail.
So acknowledge your pusher/driver side and develop a relationship with it. Make it your friend, not your dictator. And take control of your breathing, your body and mind will thank you for it. When my patients ask me how to reduce stress I always give them the above tips to start.
So, start.
As a doctor who focuses his work on anxiety and stress, I can tell you there's no time to waste as the price of stress relief goes up every year. The trouble with ignoring your stress and anxiety is that although your mind may trick you into thinking you're winning, your body keeps the score. And you can easily fall behind a touchdown or two before you know it. The sooner you SEE your stress and do something about it, the less your body has to BE your stress, and wear itself out.
Right now, doctor's orders
Breathe out fully and breathe in, expanding your chest fully, and hold for 5 seconds. Exhale, do it again (if you have the time, haha).
You've just taken the first Don't Change Much step to real stress management. I can tell you from a recovered stress case myself, that you can choose to manage your stress, or your stress will manage you. If you practice these anxiety relief tips now, you won't have to see me in my office later.
You're looking younger already.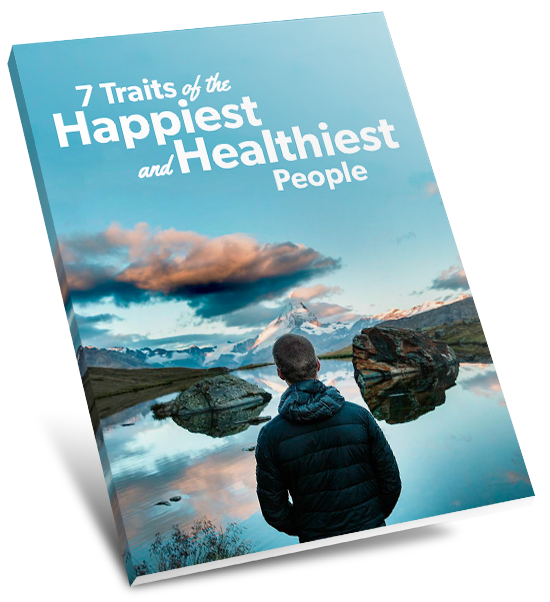 If you're thinking about increasing your energy and waking up happy, we've got your back.
Download "7 Traits of the Happiest and Healthiest People" ebook right now.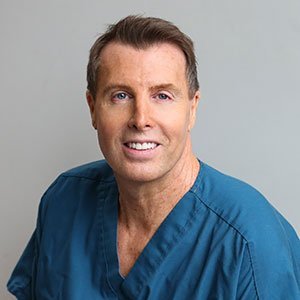 Russell Kennedy, MD
Dr Russell Kennedy aka "The Anxiety MD" is a medical doctor and neuroscientist who focuses on using brain science to help people rise above anxiety and emotional overwhelm. A recovered burned out stress case himself, his passion lies in showing ways of living life with more true feeling and less false thinking. For more than 10 years, Russ was a doctor by day and pro stand-up comedian by night. He knows about stress, he once had to do a stand-up gig at a funeral. (no joke) Dr Russ will show you new ways of processing so you will be able to SEE your stress, so you don't have to BE your stress.