Clear your mind, get settled and feel more relaxed than ever by taking a big deep breath. How awesome and unboring is that?
Picture this: You have an early meeting at work. The commute is worse than usual, cars are bumper to bumper, nobody's using their turn signals and you finally arrive 30 minutes late only to discover that the coffeemaker – and coffee tin – are both empty.
Do you:
a) Pull a Frank Costanza and scream "Serenity now!
b) Burst into the boardroom and angrily demand an explanation
c) Bottle up your emotions and seethe quietly all day.
d) Take a few deep breaths.
Option "d" has more going for it than workplace popularity and job security. Deep breathing, also known as diaphragmatic breathing because it means contracting the large muscle between your chest and belly, can produce an amazing range of health benefits.
Exhale your way through any situation:
If simply reading the word "commute" makes you feel tense, why not try some deep breathing right now: Inhale slowly and deeply through your nose—your belly, not your chest, should rise—and then do the same when you exhale. Do this once and you'll feel better. Do it a few more times and stress and tension will melt away like snow on a heated driveway.
This isn't snow, however, it's physiology. We humans are aware of our emotions, and we can use deep breathing to relax in stressful situations. Ever see your dog or cat lounging in a state of pure bliss? They've done some deep breathing.
Breathing tips to conquer your day with ease:
Lower blood pressure.
Better sleep: The relaxation that comes from deep breathing, combined with other strategies, can help you get the Zs you need.
Butt out: Relaxation routines that include deep breathing have been shown to curb cigarette cravings.
So go ahead and try taking anywhere from 3-5 deep breaths, own that morning meeting…and keep an emergency coffee stash in your desk!
Let's put an end to boring health tips and win big while we do it! Vote for your favourite un-boring health tips video—here—to earn a chance to win a 5-star all-inclusive trip to Cuba.
While you're at it, download our free eBook featuring ten more unusually fun and easy health tips!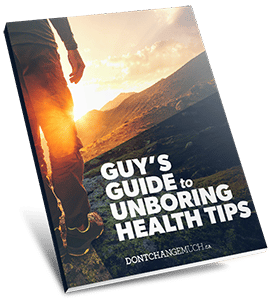 Free e-book
Are you trying to live a healthier life? If so, we've got your back.
Grab this free e-book "Guy's Guide to Unboring Health Tips" right now. You've got nothing to lose and EVERYTHING to gain!
Check the checkbox to receive more great tips each month.