The team behind Don't Change Much has a confession to make: We started playing holiday music in the office in October!
Seeing Canadian men live healthier lives makes us merry and bright, after all, and like so many of these guys we can't wait to celebrate the holidays with family and friends. On that note, we'd like to wish you and yours a very happy — and of course a very healthy — festive season!
Then there's the fact that some of the season's most popular tunes were practically made for our staff members. Here, they reveal the songs that suit them best:
[metaslider id="13695″]
"Walking in a winter wonderland, or anywhere for that matter, is a big part of what Don't Change Much is all about. The more you walk, the healthier you'll be! I fit in some extra walking by going for strolls on my lunch break and breathing in the fresh air. It really energizes me!"
Silent Night: Timothy, Digital Media Manager
"Sleep in heavenly peace? Sounds good to me! There's nothing I like better than a solid night's rest. In fact, getting enough sleep is good for everyone because it keeps our hearts healthy, reduces stress, and even makes us smarter. To sleep well, I always make sure to block all the light sources in my bedroom, drop the thermostat, and leave my smartphone in the kitchen."
Peace on Earth: Cassondra, National Partnership Manager
"The holidays can be really hectic, so I always try to take a step back and live in peace, like the song says, even if it's just for a few minutes. I stop everything and take five super-deep breaths and long exhales. Then I can stay in the holiday spirit!"
"From chestnuts roasting on an open fire to cayenne-spiked stove-roasted almonds, I much prefer nuts to greasy, salty potato chips. It goes to show how easy it is to swap tasty, nutritious snack foods for unhealthy ones."
"Having a cup of cheer is a holiday tradition, but I've learned never to overdo it — two cups is plenty — and to have a tall glass of water before and after my jingle juice holiday punch."
"Like Frosty, I love to mix up my exercise to keep it fresh and fun. Thumping (or snowshoeing) over fields of snow, dancing, running here and there all around the square, it's all good! Personally, I love outdoor skating, tobogganing and making Finnish snow angels in winter."
Santa Baby: Sarah, Corporate Partnerships Manager
"I love this adorable tune, and I admire the singer who made it famous. Eartha Kitt's work with underprivileged teens showed the world how exercise and staying active can make a difference in anyone's life."
"I've learned that having a night out with the merry gentlemen in my life — my buddies — is good for my overall health. We go to movies, to the pub, to the gym, bowling, anywhere we get to hang out and enjoy ourselves. It's good for me, and it's good for my friends too."
"I always try to have a positive attitude. It makes life look brighter and promising. With positive thinking, it's easier to achieve success, have better health, improve relationships, and enjoy life overall. By letting your heart be light, your troubles really will be out of sight."
Let It Snow: Ryan, Solution Architect
"If the snow doesn't show signs of stopping, and I've brought some corn for popping, I don't douse the snack with salt. Too much salt contributes to high blood pressure, after all, and that can lead to heart attacks, stroke and other health problems. Instead, I like to put sesame oil or spicy paprika on there. Let it snow!"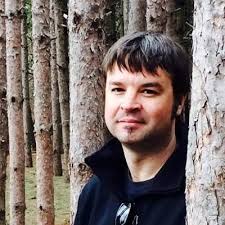 Adam Bisby
Adam Bisby is a Toronto-based freelance journalist and father of two. His award-winning stories have appeared in The Globe and Mail, Toronto Star and National Post newspapers, in magazines like Explore, Reader's Digest, International Traveller and Canadian Family, and on websites including MSN, MSN Canada, and DontChangeMuch.ca. Visit Adam's website for more details on his award winning work.