This year it seems Santa has decided to punish us for global warming, leaving the toilet seat up, or some "who-knows-what" naughtiness. The big lump of coal in our stockings: Being unable to get together with friends and family during the holidays. Well, call us nasty little elves because we have some suggestions for you to thwart Santa's "gift" with free software for hosting large group video conferencing calls for everything from chilled social hangouts and family dinners to New Year's Eve shin-digs. Let's get this online party started!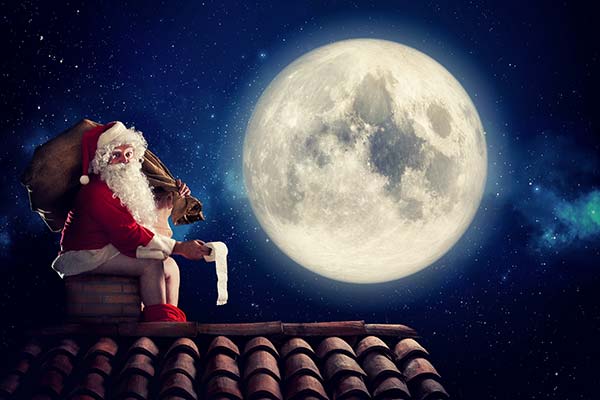 Before we jump in, we'd like to point out the heart of the problem we experienced while planning our own online holiday party. Most video conferencing software is designed to host business-style meetings where one person talks and everyone else listens. If more than one person talks at a time, or people try to have a side conversation, then all communication turns into a jumbled mess of noise. Pulpit-style speaking may be great for work, but what a boring party!
Kumospace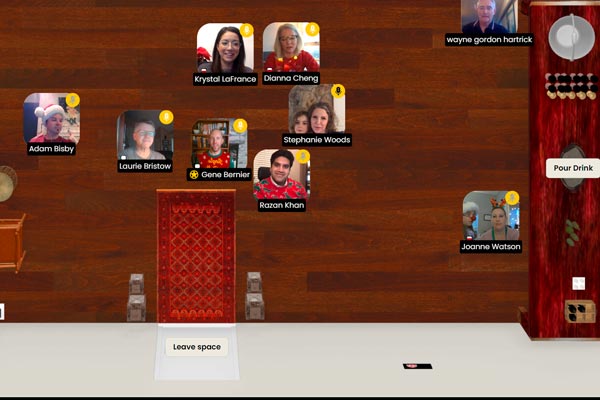 Kumospace is our top pick for family gatherings, and it's also why we used it for our virtual holiday party. Along with Gather.town (more on that in a minute), it's one of the most straightforward online video chat tools to set up and use. It mimics an in-person party setting by turning up the volume on conversations as speakers get closer together on screen. Move away, and you can't hear them anymore. So it truly allows you to mingle. You can also get everyone's attention to make a toast through the messaging feature. Too much to handle on your own? No problem. You can make someone a co-host at your party.
Pros:
Easiest. Setup. Ever. Go to Kumospace.com, click "Get Your Space," and enter the name you want. (Sorry, SantaXXX69 is taken.) The website will then generate a space for you. Share the link to your space with friends and family.
You can easily escape from Uncle McBoring's droning or even play a game of tag by moving your character around the space.
If you want to go next-level, you can add multiple rooms and have up to 25 people in each.
All you need is a high-speed internet connection and a recently updated web browser.
Limitations:
A 25-participant maximum.
It works well on your computer but not on your smartphone. You can only see a small part of the room, and it is tricky to move around.
You only get one link, which you have to reuse for additional parties you host. So you can have unwanted guests — we're looking at you, Uncle McBoring. Pro tip: just generate a new Space as needed.
You may experience slowdowns. The software runs in your web browser, so it could be a computer power and internet hog if you have many participants.
Gather.town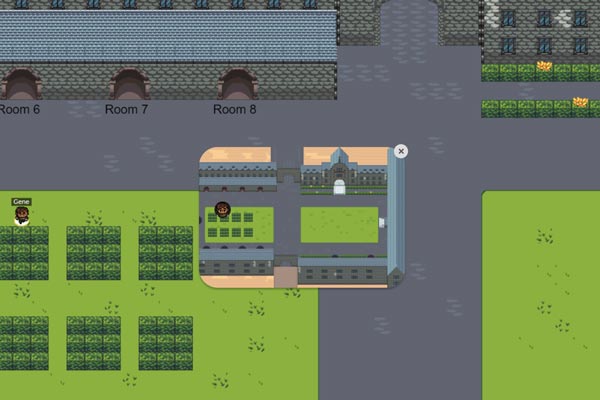 Gather.town is our go-to for hanging with your buds, and it is also super-easy to use. You enter the on-screen "town" as an 8-bit avatar version of yourself (think 1980s game graphics) and move through various scenes such as a castle or a rooftop patio bar. As with Kumospace, move closer to mingle and farther away to leave the conversation.
Pros:
Signing up for Gather.town is just as easy as Kumospace.
If you were a gamer back in the day, you'll appreciate the nostalgia of the Nintendo Entertainment System-esque graphics.
Getting your character to move around on your smartphone is easier than on Kumospace because there are arrow buttons you click to walk.
You're able to set a password for your space, which protects against unwanted visitors.
You can create multiple spaces for different parties.
All you need is an internet connection and a web browser.
Limitation:
25 participants on the free plan.
The company says the mobile phone experience is a work in progress. We found we couldn't get the smartphone camera feature to work.
Like Kumospace, you may experience slowdowns. The software runs in your web browser, so it could be a computer power and internet hog if you have many participants.
Host an online "watch party"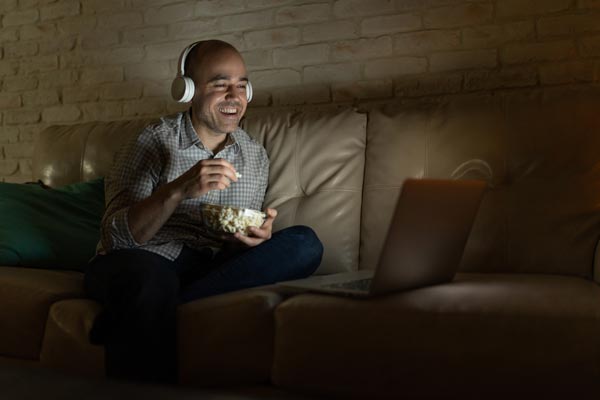 Going to a movie theatre with friends already feels like a lifetime ago. Will that experience go the way of the dodo, just like Blockbuster Video stores? No doubt COVID has accelerated the delivery of new releases and all sorts of other cool content to your home. The popcorn, candy and refreshments are cheaper, sure, and it's far more acceptable to wear your pajamas, but the experience isn't the same because your friends aren't there. The solution: a Watch Party! Everyone's in their own homes, but they share the movie experience by being connected on a group call.
Basic Approach: you don't need fancy software to make this happen. Pick a show, a time, and one of our recommended video or teleconference apps to host the call, and let everyone know. Sync the start of your show, and voila!
Some streaming services like Prime Video do provide Watch Party experiences that make it easier to coordinate and sync viewings. Products like Teleparty (formerly Netflix Party) can make your Watch Party more interactive, synchronize video playback, and add group chats to Netflix, Disney, Hulu and HBO.
Pros:
Nothing says "Christmas" like watching a classic movie like Die Hard or Die Hard 2 together.
You don't need specialized software to make this happen.
Limitations:
If you take the Basic Approach, you'll need to synchronize the start time of the show. Pro Tip: count down from 5 for everyone to click "play" at the same time.
Noise pollution from other homes — side conversations, noisy children, tuba rehearsal — can disrupt the shared show.
Go with whatever your kids are using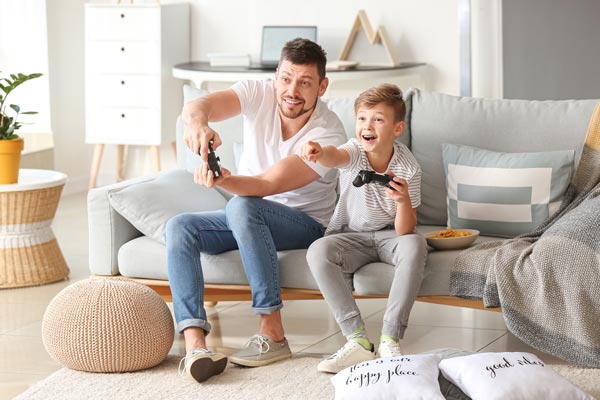 Sometimes the answer is right in front of us. As usual, kids looking to relieve lockdown boredom were waaaay ahead of adults when it came to having fun with new online games and experiences.
Pros:
Participating in an online game keeps things focused on interactive fun instead of questioning why you always leave the toilet seat up.
Some popular kid's games are straight-up cool. Among Us, for instance, puts a fun twist on the classic murder mystery plot.
Limitations:
If you go with this option, you'll need to recruit the kids' help and ensure they're okay with you and other geezers entering "their" world.
Depending on what you choose, your party guests may have to download and install software, which could be a tech support challenge.
Watch out for games that don't support healthy interactions. Roblox, for instance, sees players get "scammed" by other players. We're dads, and this game has been banned from our houses.
Good Routines to Stay Connected in 2021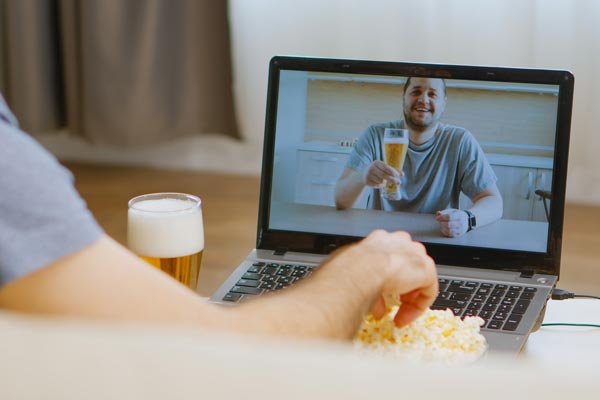 With your tech sorted and your party planned, we wanted to plant the seed for a successful 2021. Relationships will matter more than ever to get through the COVID mess. Staying tight with your buddies or connecting with relatives can be challenging at the best of times. Life gets busy, and suddenly months or even years have passed since you last hung out. But it doesn't have to be that way! Use these easy routines to keep friendships and connections going strong.
Create a regular schedule to connect with people in your social circle. Even a 15-minute call once a month can boost your sense of mental well-being. Tip: put a recurring reminder in your calendar, so you don't forget.
If you're connecting online, plan and test ahead. Tech issues can crop up, so it doesn't hurt to do a test run with your spouse or your tech-savvy kids.
Have fun with it! Host a virtual games night or a BS session with that cousin you've been meaning to call.
Wrapping up 2020
Staying connected to the people who mean the most is a big deal. It may not be your preferred way to spend time with family and friends over the holidays, but seeing everyone's faces and sharing a good laugh online is still awesome. Remember to brush your hair and stay seated if "pants-optional" is how you roll.
As for the tech, hands down Kumospace or Gather.town are the easiest to set up and host your party. We also like the "watch party" or "go with whatever your kids are using" options if you want to host an experience instead of straight-up socializing. Regardless of what technology you use and how you choose to spend your time this holiday season, sincerest best wishes from us to you and yours!

Got any online party ideas other guys should know about? Please share in the comments below!