Help other guys get fired up about how to be healthy at work by designing your own Don't Change Much poster.
Okay gents, it's time to play a few quick rounds of "Fill in the Blanks — Guy Edition."
Question 1: When the going gets tough, the tough get _____.
If you said "going," well played! Then again, if you said "to the nearest hammock," we totally see where you're coming from. Napping rules!
Question 2: It's my way or the _______.
"Highway" is the answer we're looking for, but we'll also accept "patio." Who doesn't want to hang on a sunny patio at this time of year?
Question 3: Keep your eyes on the _____.
Yup, "prize" is the right response. Then, by tacking "…and give them plenty of screen breaks" on the end, you'll complete one of four cool slogans the Don't Change Much team has whipped up for Canadian Men's Health Week 2019 (June 10 to 16). Here are all four of them: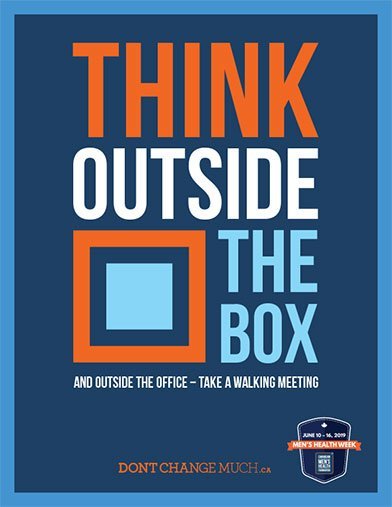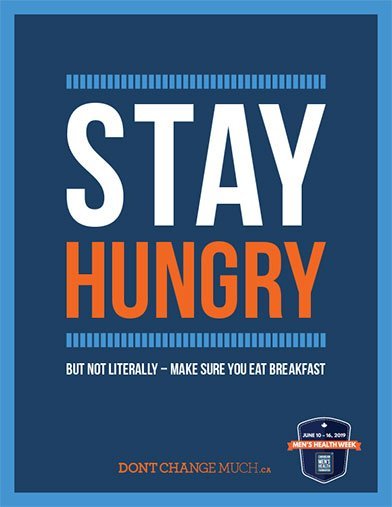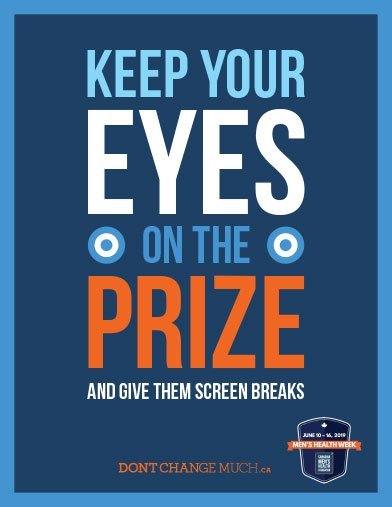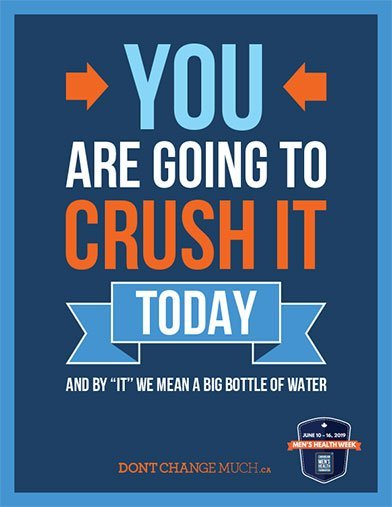 Pretty catchy, right? These posters also provide some easy tips on how to live a healthier life and feel better at work, which is exactly what Olympic gold medallist Adam Kreek delivers in the awesome new ebook you can download for free here!
Since you're such a boss at filling in blanks…
…why not try filling in a whole poster! That's right: Remove all the text from any of our four posters, and replace it with your own take on what Don't Change Much and Canadian Men's Health Week are all about. Is there an inspirational quote or saying you like? A phrase that gets your blood pumping every time you hear it?
The idea is to help other guys get fired up about living healthier, which is why we'll be picking three of our favourite posters to share with the whole Don't Change Much community on June 16. We'll even design and print our faves, and mail them to the guys who come up with them. Sweet!
All you have to do is comment below, type in your poster text, and hey presto: You're that much closer to helping other guys make small healthy changes that can lead to big-time results. If you haven't signed up to post comments, now's your chance!
When the going gets tough…the tough get to design awesome posters!
July 24, 2019 Update:
We're thrilled to announce the winner of our Canadian Men's Health Week 2019 motivational poster contest! Robert Kehl wins the contest with his entry entitled, "Never Surrender…A Full Night's Sleep." The poster is downloadable in PDF by clicking the image below.
Congratulations, Robert!
If you want to learn more about mental health, check out the Guy's Guide to Mental Health.