Spring cleaning faces an uphill battle most years. Pro hockey and basketball playoffs are in full swing, warmer weather lures us into parks and onto patios, and as always, work and family commitments can get in the way.
Of course, 2020 is not most years. Far from it! With COVID-19 shutting down everything from arenas to eateries — and maybe even your workplace — many distractions have disappeared. Social distancing, meanwhile, is prompting families to stay home.
In short, the next few weeks (or months) present a prime opportunity to spring-clean like you've never spring-cleaned before! Here are three easy tips to make it happen:
Clean out the clutter first
It's hard to clean with stuff all over the place, so the first thing you need to do is part ways with anything you wouldn't miss if it was gone. If items of sentimental value present a challenge, ask yourself a question: Is that tarnished trophy or cracked mug the best or the only symbol of the good times you've had, or of the relationships you value? If it isn't, take one last look, and lob it in the dumpster.
Reducing clutter at home can pay off big time. It prevents you from misplacing things you actually need and value — the TV remote, car keys, small dogs — and saves you time and effort. No wonder a recent study reveals that cutting down on clutter reduces anxiety and stress.
Clean from top to bottom
There's a reason cleaning is said to happen "from top to bottom." Dusting and/or vacuuming at the ceiling and working your way down — first fans and light fixtures, then furniture, then rugs and carpets — forces dust and other debris toward the floor, where you can sweep or suck it all up in one go. Gravity for the win!
Hacks got your back
Just as duct tape fixes pretty much everything, WD-40 cleans an amazing range of hard-to-clean items. Black scuff marks on your kitchen floor? Check. Tea stains on tables or countertops? You bet. Lime stains on your toilet bowl? Bingo! Just remember to crack a window if you use a lot of the spray lubricant.
Bleach is even more versatile. The inexpensive liquid is widely available from supermarkets (along with most other cleaning supplies), and is great for killing germs including coronaviruses. Wearing rubber gloves to protect your skin, mix four teaspoons of bleach with each litre of water and go to TOWN on your kitchen and bathrooms. On that note…
Focus on high-traffic areas
As well as being the busiest rooms in your home, your kitchen and bathrooms are where a lot of mess-making activities take place. ('Nuff said, right?) This means these rooms are the ones that need cleaning in the worst way. That's where this handy step-by-step checklist comes in:
Kitchens
Look in cupboards you rarely use and see what you can toss
Throw out expired food in the fridge and freezer
Declutter junk drawer
Dust top of cabinets and above fridge
Clean inside of cabinets and drawers
Defrost and clean fridge and freezer
Wipe down inside of microwave
Clean oven
Clean pantry shelves and around trash
Wipe down backsplashes, countertops and appliances
Wash floors
Bathrooms
Wash shower curtains
Wipe down mirrors, countertops, sink, shower stall and tub
Unclog drains
Clean in, around, and behind toilet
Wash floors
Get rid of expired medications and cosmetics by taking them to the pharmacy for proper disposal. Don't flush them down the toilet!
Get the family involved
Having the kids home from school sure seems like the ultimate distraction — that is, until you put them to WORK!
Good luck with that, you say? That's where a little bribery comes in. Staying up late to watch hockey or going out for dinner may not be possible, but there's nothing stopping you from downloading the movie or game they want, or putting on a backyard barbecue show, in exchange for a little help around the house.
Show them this easy and delicious recipe for grilled barbecue chicken pizza (it also works great in the oven) and they'll be firing up the vacuum in no time (or at least helping you plug it in).
Do you have a WD 40 cleaning hack? Share your skills in the comments below!
If you want to learn more about mental health, check out the Guy's Guide to Mental Health.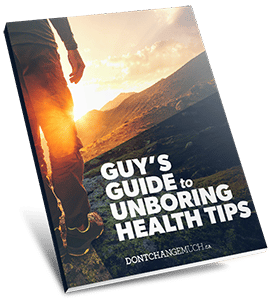 Free e-book
Are you trying to live a healthier life? If so, we've got your back.
Grab this free e-book "Guy's Guide to Unboring Health Tips" right now. You've got nothing to lose and EVERYTHING to gain!
Check the checkbox to receive more great tips each month.
---
This article is made possible by the support of generous sponsors.