What's the funniest coffee-mug saying you've ever seen at work? There are some real keepers out there:
"I'm sorry, I didn't mean to push all your buttons. I was just looking for mute."
"World's okayest employee!"
"I survived another meeting that could have been an email."
Here are three simple solutions for staying mentally sharp at work.
Keep it real with coffee
For dedicated coffee drinkers, what's on a mug is nowhere near as important as what's IN it. As well as the caffeine-fuelled pick-me-up coffee provides, its plentiful antioxidants help prevent muscle damage. Drinking coffee can even curb depression, according to a study funded by the U.S. National Institutes of Health.
The "road to success" may well be "paved with coffee," as one mug declares, but you can have too much of a good thing. Drinking another cup late in the day, for instance, can lead to poor sleep owing to caffeine's stimulatory effect. The easy solution: Avoid drinking coffee after 3pm! This will help you get the sleep you need to stay mentally sharp.
Just ask Adam Kreek. In the new "Gold Medal Office Health Tips" ebook, which you can download for free here, the Olympic champion rower-turned-executive coach shares this and many other super-easy pointers for staying healthy on the job. With Canadian Mental Health Week (May 6 to 12) and Canadian Men's Health Week (June 10 to 16) just around the corner, here are two more of Adam's awesome tips for looking after your mental health at work: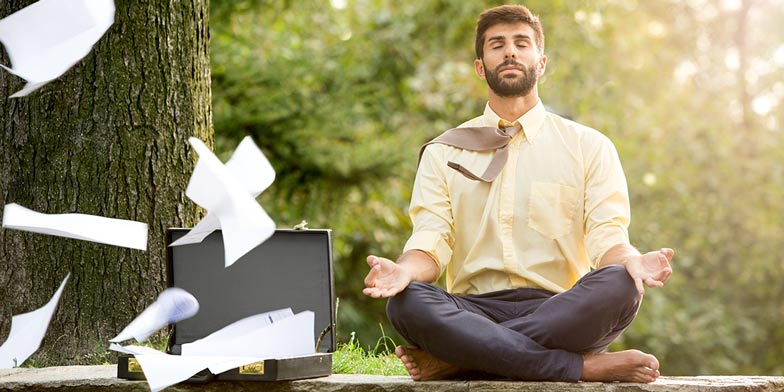 Eat lunch away from your desk  
Taking a break from your desk or job site, even for a few minutes, can have a positive effect on your mood and provide a jolt of creativity, research shows. Here are a few easy ideas for making the most of that time away:
Take a stroll: If there's a restaurant, cafe or grocery store a few blocks from your office, walk there for lunch. Eat your meal, then walk back. Even a few minutes of light exercise like this can work wonders on your mood and physical health.
Find a calm green space to breathe: Head to a calm green space near your office with your lunch in hand. (Here are some easy, tasty, and healthy ideas for brown-bagging it.) Take a seat on a bench or a patch of grass, close your eyes, and do some deep breathing: Inhale slowly and deeply through your nose — your belly, not your chest, should rise — and then do the same when you exhale. Do this once and you'll feel better. Do it a few more times and stress and tension will melt away.
Get social with a buddy or co-worker: Invite a co-worker or a friend who lives or works near your office to tag along. Relaxing, laughing, and talking about last night's game with your buddies will cheer you up, and help you shrug off the stresses of everyday life.
Give your eyes a break from screens
These days, taking a break from your desk also stops you from staring at a screen and checking social media. This can be a good thing, as there is growing evidence that links heavy use of electronic devices with mental-health concerns.
Low mood and self-esteem, for instance, are associated with failed attempts to take extended breaks from social media. Plus, you can't joke around with co-workers if you're staring at a screen all day, right?
As the coffee mug says: "It's all fun and games until someone's stapler ends up in Jello."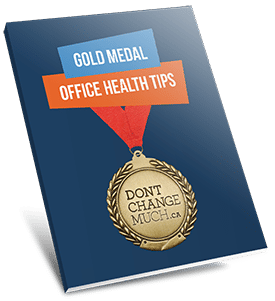 Free e-book
Are you thinking about being healthier at work? If so, we've got your back!
Grab this free e-book "Gold Medal Office Health Tips" for tips on how to be healthy at work.
Check the checkbox to receive more great tips each month.