It's the most stress-ridden, holly jolly time of the year, especially if, like most guys, you still have plenty of last-minute shopping to do before the big holiday. While the average Canadian plans on spending $630 on gifts, it's not about how much the gifts cost.
This year shopping online is likely the easiest (and safest) way to shop than the usual fight-to-the-death-for-that-last-parking-spot-at-the-mall kind of shopping. Whatever option you choose, here are some hacks to meet shipping deadlines, stay away from line-ups, and slay your holiday stress.
Tips for Last Minute Shopping Online
Check online cutoff dates for delivery
Before you hit the "Buy Now" button, make sure you check the cutoff dates for delivery. A lot of sites will have this info prominently displayed, but if they don't, be sure to check and avoid the stress of not being sure if your gifts will arrive in time. Most websites will have a shipping cutoff date in their shipping FAQs section.
Buy gifts that don't need shipping
Another easy tactic is to send a gift that doesn't need shipping. Some ideas are virtual gift cards (then someone can buy whatever they like), a monthly subscription like a wine of the month club, or a subscription to a video game or book of the month club for your kids. If you search for "monthly subscription gifts in Canada," you'll come up with lots of ideas. And really, who doesn't love getting gifts ALL year-round?
Buy online, pick up in-store
If you miss cutoff dates for shipping, you can buy your gifts online and have them sent to your local store. This gives you more time to procrastinate, you don't have to wait in line to get INTO the store, and you don't have to wait in line AGAIN to pay.
Last, last-minute online shopping
Good ol' Amazon will be your buddy if you've left shopping to the very last minute. In some places, you can get your gifts delivered within a couple of days with Amazon Prime, so relax, have a beer, and let your fingers do the shopping. You'll be supporting us at no cost to you by shopping from Amazon links on Don't Change Much!
Move your body when checking the mail
Since you don't necessarily need to go dashing through the snow in a one-horse open sleigh to get your gifts this year, there might be a lot more sitting on your butt. This means you might want to keep your "spare tire" in check. Take the stairs instead of the elevator if you live in a multi-storey building and your post box is in the lobby. It's a great way to sneak in a few minutes of exercise every day and get active indoors as you walk down and up the stairwell.
Another great option is to make a small goal for yourself to get out and go for a walk around your neighbourhood for at least 20 minutes every day when it's time to check the mail. It's amazing what a little fresh air can do for your body and your mind. You might even catch yourself singing a little Jingle Bells along the way.
In-Person Shopping Survival Tips
Get in and get out strategy
If you decide to brave in-person shopping this year, make a list and check it twice before leaving the house. Having a battle plan means you can get in and get out as quick as possible.
Wear a mask and have fun with it
If you do need to face the holiday crowds, don't forget your mask. If you're tired of wearing a mask, mix it up by pretending you're a badass ninja on a top-secret mission. Or try talking like Darth Vader to all the salespeople, because who cares since nobody can even see your face? You might as well have fun with it.
Bring headphones and dress for comfort
The only things worth standing in line for are beer and free food. Unfortunately, holiday gift shopping doesn't usually include either. Before you dive into the consumer rush, put on comfortable clothes and upload a few of your favourite tunes for the inevitable check out wait.
Shop early in the morning or late at night
Many stores will have extended hours in December, so shopping either early in the morning or late at night will help you avoid the crowds. This is another useful strategy for getting in and out of there really quick.
Hydrate, hydrate, hydrate
Grab a bottle of water before you leave the house. Water will help you avoid a headache and the dreaded mask-stank mouth. Pro tip: brush your teeth before you leave the house.
At the end of the day, holidays are about quality time with the people you love. So, get the gifts bought and wrapped, saddle up around the Yule log and pour yourself a rum and low-fat eggnog. Well-deserved after a day at the mall, wouldn't you say?
Do you have any helpful last-minute shopping tips you are proud of? Share them in the comments below!
This article was originally published on December 17, 2015.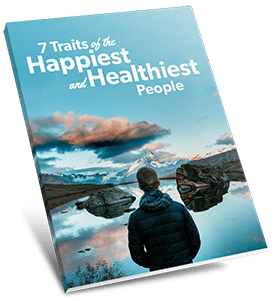 Free e-book
If you're thinking about increasing your energy and waking up happy, we've got your back.
Download the "7 Traits of the Happiest and Healthiest People", to increase your energy and wake up happy.
Check the checkbox to receive more great tips each month.