For better or for worse, some places are off-limits for yacking with your buds. In a library, you'll be sternly shushed (hopefully by a hot librarian). In a paintball battle, you'll give away your position and GREAT BALLS OF FIRE THAT HURTS! In the men's room, meanwhile, is there anything more awkward than a chatty guy right beside you at the urinal?
Awkward venues are one thing, but awkward SUBJECTS are quite another. If you're worried about a friend, for instance, checking in to make sure they're OK isn't always easy. With Bell Let's Talk Day right around the corner on Jan. 29, that's where these tips come in:
Go for a "Chat Lap"
Guys often prefer to talk side-by-side instead of face-to-face, so going for a car ride, hike or stroll with the dog can be a great way to have an open and honest conversation that doesn't feel weird. Note: Side-by-side Chat Laps can get weird if urinals are involved, especially if ALL the other spaces are open. And Chat Laps in bathroom STALLS? Next-level weird!
Be yourself
There's no right or wrong way to show you're concerned about your friend. Just be straight up and genuine. If he's not ready to talk, don't be discouraged. At the very least, checking in will show you give a damn and are ready to listen.
Make a case
Showing you've noticed a change in your bud's behaviour, or are aware of his struggles, will make checking in feel more natural to you both. Give these tried-and-true conversation starters a shot:
"Hey man, you haven't seemed like yourself lately. Is everything OK?"
"Buddy, how come you haven't been coming out with the boys? Is something up?"
"Seems like you've been having a rough time. What's going on?"
Keep it moving
Getting your buddy to share his troubles is a big step forward. Pat yourself on the back for being a good friend! The more he opens up, the more conversations will help. Here are a few suggestions for moving things along:
"Dude, that sounds really tough. How's it affecting you?"
"Hey, I know talking about this can be difficult, so I'm really glad you filled me in."
Show your support
You don't need to have all the answers. Just knowing you've got his back can help your friend feel less alone and more supported, and can prevent mental health issues such as depression and anxiety from taking hold or getting worse. Here are a few easy phrases you can use to highlight your support:    
"You know I've got your back, right? Don't think you have to deal with this on your own."
"I'm not sure what to do, but I'm sure we can figure it out together."
"What can I do to help? Just say the word!"
"It probably doesn't feel like it right now, but things will get better."
"Hey, feel like doing something to help take your mind off things?"
If that "something" turns out to be a paintball battle, remember: Keep your head down, mouth shut, and balls covered!
What have you done to help a friend? What strategies did you use? Go ahead and share them in the comments below.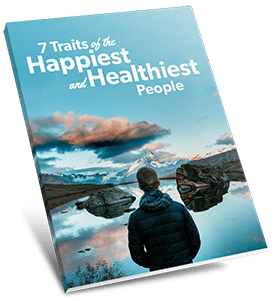 Free e-book
If you're thinking about increasing your energy and waking up happy, we've got your back.
Download the "7 Traits of the Happiest and Healthiest People", to increase your energy and wake up happy.
Check the checkbox to receive more great tips each month.