Replacing unhealthy foods with healthy ones is an easy way to lose weight and feel better
So many complicated diet plans, so little time. That's why food and drink swaps work so well for dropping pounds. Every time you reach for any of the fatty, sugary or doughy foods and beverages listed below, simply swap it out for the healthier alternative. In every case, option B is just as tasty and satisfying, and choosing it will make a big difference to your waistline and your overall health in the long run.

Whole-grain bread instead of white bread
White bread is stripped of a lot of nutrients before it's even baked. Whole-grain bread, on the other hand, is still full of bran and germ, which contain vitamins, minerals, healthy fats, protein, and fiber.

Club soda instead of pop
Drinking just one can of pop accounts for nearly all of your recommended daily intake of sugar. Club soda has the same satisfying fizzy taste, but without the empty calories. For some added zing, squeeze in some citrus juice.

Nuts instead of potato chips
Kick the salty, fatty chip habit by replacing them with almonds or cashews. Nuts contain healthy fats and more fiber and nutrients than potato chips, so you can eat less and stay full for longer.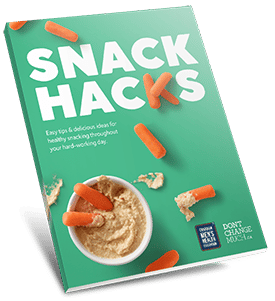 Free e-book
Are you trying to snack healthier? If so, we've got your back!
Grab this free e-book "Snack Hacks", for easy tips and delicious ideas for healthy snacking throughout your hard-working day.
Check the checkbox to receive more great tips each month.