Imagine sinking your teeth into dark chocolate fudge studded with caramelized almonds, dried apricots, cranberries, blueberries and raisins. Or, dipping a spoon into a bowl of whiskey raspberries with chocolate mousse and pistachios. Sounds delicious, right?
It may surprise you to learn that both these culinary creations are actually nutritious. Dessert? Nutritious? As it turns out, any guy can whip up an after-dinner treat that doesn't involve waistline-expanding sugar, refined flour, and unhealthy fats.
The rise of the "Three Pleasures"
These two desserts are among dozens shared on Twitter and Instagram using the #3ForDessert hashtag, which is being popularized by Harvard nutrition scientist Walter Willett. Fed up with the unhealthy treats available at restaurants, Willett is promoting the "Three Pleasures" — nuts, fruit and dark chocolate — as the ideal ingredients for simple desserts that deliver great taste without being bad for you.
What makes the "Three Pleasures" so good? Fruit is refreshing, naturally sweet and will add colour to your creations. Nuts are crunchy and full of flavour, while dark chocolate beautifully compliments the sweetness of fruit and requires no explanation – It's chocolate!
Making your own "Three Pleasures" dessert
For a beginner's "Three Pleasures" dessert, there are no instructions or ingredient amounts. All you need to do is copy the picture – crazy easy! Start with the 3 ingredients listed below and arrange on a small plate, pile into a martini glass, or present on a big platter that people can share.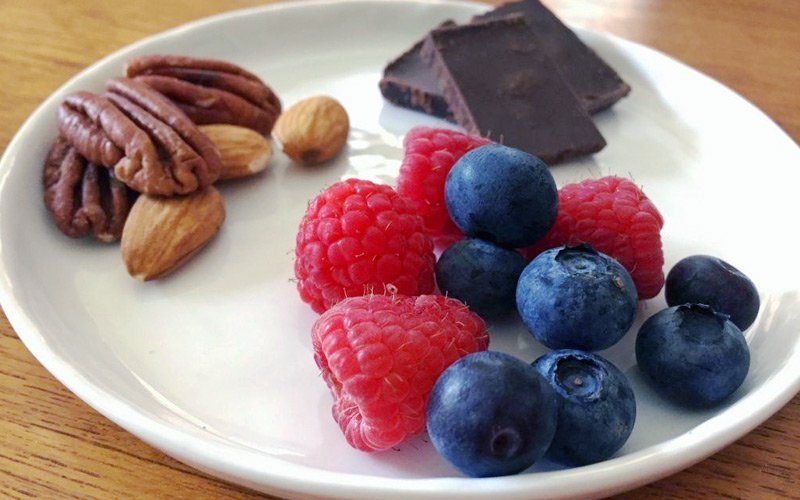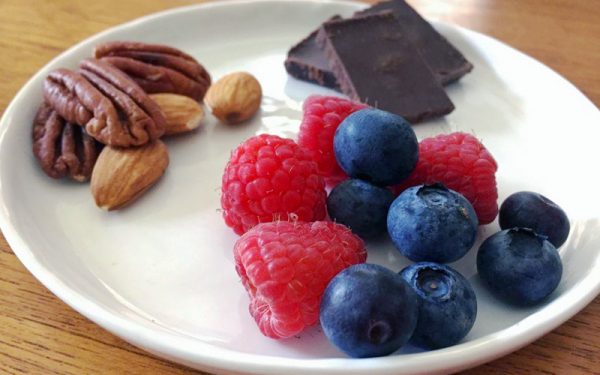 Start simple with these ingredients:
Dark chocolate almond bark
Whole almonds
Fresh blueberries and blackberries (or fruit in season)
Got some skill in the kitchen or want a good challenge? Here is a "Three Pleasures" recipe that kicks it up a notch.
You'll be amazed how easy and delicious these healthy desserts can be. Once you've tried this, you can swap in different ingredients to mix it up. Serve this dessert, or another of your creation, to a significant other or friends, and they're bound to be impressed.
Join in the fun on Twitter and Instagram by snapping a photo of your sweet creation and sharing it using the #3ForDessert and #DontChangeMuch hashtags.