Spring is the freshest season. Why do you think the soap is called Irish Spring and not Irish Winter? And it's spring cleaning, not summer or fall cleaning, right?
If all this fresh talk has you craving a spring-inspired meal, a member of the Don't Change Much team, Seshley Kumar, has a treat for you: Her secret recipe for Cilantro Lime Vinaigrette dressing. If you're looking for easy recipe ideas, you've come to the right place!
Ah, the fresh taste of spring!
Pour Seshley's easy-to-make topping on grilled chicken, fish and veggies — and of course on salads — and it turns the dishes into lip-smacking feasts. As Seshley says, "I love the combination of sweet, savory and tart all in a single bite, which in a nutshell is what you get from this dressing."
The key ingredient, she adds, is cilantro. "It's a potent yet very versatile herb, so I add cilantro to many different dishes."
So tasty, so easy
This dressing is one of Seshley's go-to kitchen moves when she wants something quick, easy and most importantly, tasty. "Chicken, fish or veggies are so easy to grill or bake in the oven, and salad kits are in every grocery store. But one of the best things about this dressing is that it is the easiest part!"
Just how easy is it? You take the ingredients…
1/2 cup avocado oil (or olive oil)
1 tablespoon white vinegar
1/2 cup chopped cilantro
1 teaspoon garlic powder
1 tablespoon water
1 tablespoon honey
Juice of 1 lime (or lemon)
1/8 teaspoon chili powder
Pinch of salt and pepper
…you put them in a food processor, and turn the thing on until all the ingredients are blended together. That's it! This recipe makes one cup of dressing, which can be stored in the fridge for up to two weeks. If you don't have a food processor, it's no biggie. Just make sure the cilantro is finely chopped, and put some elbow grease into your whisking.
Small investment, big rewards
Food processors are a big help in the kitchen, yet cost as little as $50 at any big-box kitchen or housewares store. Seshley, for her part, is a huge fan of her appliance. "Who loves their food processor? I do! When you're feeling hangry — hungry and angry — what's better than throwing in a few ingredients in a machine and letting it do the work?"
Sounds like a plan! Here are a couple more awesome recipes that will make your food-processor investment pay off:
Smashed Chickpea Pesto Sandwich
Chef Ned Bell's Green Eggs and Salmon
Do you know any other tasty recipes that use cilantro? Or that make great use of a food processor? Share you kitchen wizardry in the comments below!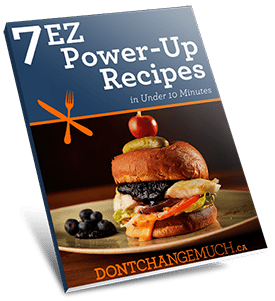 Free e-book
Are you thinking about boosting your energy with tasty and satisfying recipes?
Grab this free e-book "7 EZ Power-Up Recipes" for energy-boosting, satisfying, recipes ready in under 10 minutes.
Check the checkbox to receive more great tips each month.