Breakfast been lacking lately? Getting mid-morning snack cravings? Kick up your breakfast with this BAM! Burrito and heat up the kitchen Emeril – Style.
Ingredients:
1 tomato
Handful of chopped onion
1 pepper (any type, even add a jalapeno)
Garlic
Eggs, 2
Whole wheat tortilla
Cheese (optional)
Instructions:
Chop the veggies and garlic to small pieces and toss in a bowl. BAM! a pinch of salt and pepper.
Heat up a frying pan with some olive oil.
Crack eggs into a small bowl and just beat it. Pour the eggs into the frying pan and cook.
Lay the tortilla on a plate and place the eggs on ¾ of the tortilla. Add a handful of cheese and top with your veg.
Fold up the bottom, then the sides to roll into a burrito and chow down.

Play around with different flavours or add last night's leftovers and have yourself a BAM! worthy breakfast.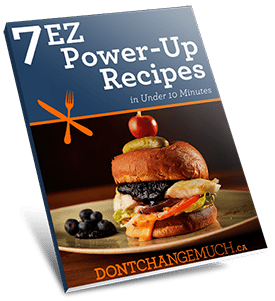 Free e-book
Are you thinking about boosting your energy with tasty and satisfying recipes?
Grab this free e-book "7 EZ Power-Up Recipes" for energy-boosting, satisfying, recipes ready in under 10 minutes.
Check the checkbox to receive more great tips each month.