A guy walks into his doctor's office with brussels sprouts stuck in both his ears, and another sprout lodged in one nostril.
"Doc, this is terrible!" the man groans. "What's wrong with me?"
"Well," the doctor replies, "first of all, you need to eat more sensibly…"
(Insert "Wah-wah-whaaaaah!" sound here.)
Seriously though: You never know when you'll need a reliable G-rated joke. So…you're welcome!
The thing is, if the guy in the "joke" puts those brussels sprouts in his MOUTH, he'd be eating one of the healthiest foods around. Now THAT'S sensible!
Then there's the recipe below, which adds a serious shot of sweet, juicy, nutty flavour to the tender-cooked nuggets. The walnuts bring some muscle-building protein to the table, and with just four other ingredients it's a snap to whip up. So take those sprouts out of your ears and give it a try!
Charred Honey-Orange Walnut Brussels Sprouts
This side-dish feeds two people, so double the ingredients if you want to feed four, or if you want some leftovers to enjoy with baked salmon or grilled lemon chicken the next day for lunch.
Ingredients:
Half a pound of brussels sprouts (cut off the little stem and half them)
2 tablespoons olive oil
1 tablespoon honey
Half a cup chopped walnuts (find the skinless variety if you can)
1 orange
Pinch of salt and pepper
STEP 1: In a large bowl, toss the trimmed and halved brussels sprouts with the olive oil, honey, and salt and pepper.
STEP 2: Transfer the bowl's contents to a non-stick frying pan and cook on medium-high heat until well charred, 6 to 8 minutes.
STEP 3: Add the juice from half the orange and the chopped walnuts. Save ½ the juice for Step 5.
STEP 4: Cook until the sprouts are coated, about 1 minute.
STEP 5: Put everything back into the large bowl, toss with remaining orange juice, and season with another pinch of salt and pepper.
Brussels sprouts are rich in vitamins C and K, which work together to stave off illness and keep bones, teeth, gums, and blood vessels healthy. They're also full of folate, which may help prevent heart disease and some types of cancer. Last but not least, there's lots of digestion-aiding fibre in there too.
More ideas for cooking with brussels sprouts
Want more healthy and delicious recipes for cooking with brussels sprouts? Check out these beauties:
Do you have another Brussels Sprouts recipe up your sleeve? Share your good taste in the comments below!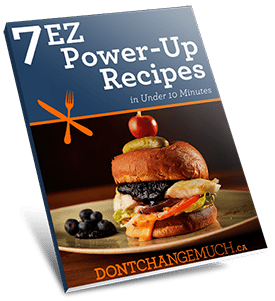 Free e-book
Are you thinking about boosting your energy with tasty and satisfying recipes?
Grab this free e-book "7 EZ Power-Up Recipes" for energy-boosting, satisfying, recipes ready in under 10 minutes.
Check the checkbox to receive more great tips each month.