A morning-show host, a Grey Cup champion, and a celebrity chef walk into a kitchen…
No, this isn't a new twist on one of those "three guys walk into a bar" jokes. It actually happens in the video above when Breakfast Television Vancouver's Riaz Meghji is joined by Ned Bell, the Ocean Wise executive chef at Vancouver Aquarium, and retired CFL linebacker Shea Emry. (Riaz's two guests, by the way, are both Don't Change Much Champions, which makes them especially awesome.)
The three guys are in the BT Kitchen to show viewers how quick and easy it is to turn young chickpeas — the green ones you'll find frozen at the supermarket — tuna, avocado, lettuce and a few other straightforward ingredients into a delicious man-sized salad that'll help you build linebacker-like strength and make you look like a celebrity chef to dinner guests. And that's no joke!
Chickpeas, Ned explains, are "packed full of protein, fibre and other nutrients…There's so much more to them than hummus. Add chickpeas to curries, to quinoa salads, to smoothies, even granola."
Shea, meanwhile, happily helps himself to the fresh green ingredients in front of him. "I don't want to bring any of the crap from the centre of the grocery store into my home, because then I just eat it," he says. "When we just have vegetables and lean proteins and that kind of healthy stuff in the house, I can graze and not worry about eating unhealthy foods."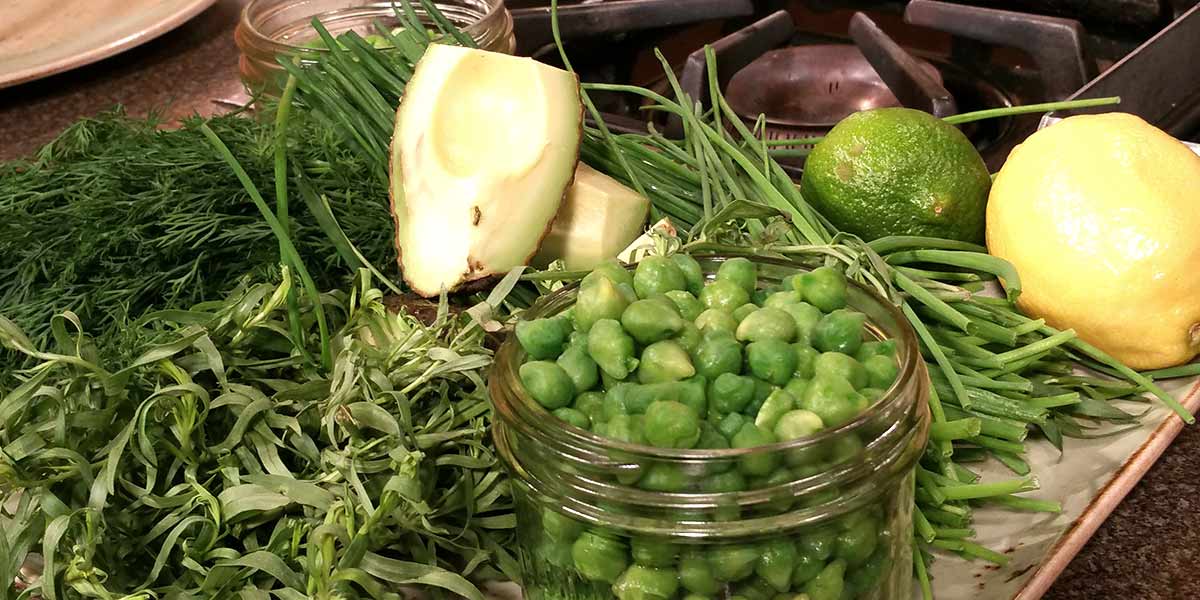 Green Chickpea, Avocado & Tuna Salad
Want to cook like Ned and build muscle like Shea by eating plenty of protein? This easy three-step recipe can help with both:
In a blender, puree together:
1 cup of thawed green chickpeas
2 pitted and peeled avocados
1 whole jalapeno pepper with seeds removed
1 handful of fresh basil leaves and fresh chives
1 cup of extra virgin olive oil
4 tablespoons of low fat yogurt
1 tablespoon of honey
1 teaspoon each of sea salt and cracked black pepper
The juice of 1 lemon and 1 lime
Arrange as many salad greens as you like on a plate.
Drain a can of albacore tuna and spread the meat over the greens. Slice up another avocado and add it to the salad along with a few whole chickpeas.
Scoop a couple tablespoons of the blender mixture onto the salad.
Refrigerate any leftovers for another day. Then drizzle a teaspoon of extra virgin olive oil on top of everything with a squeeze of fresh lemon and dash of sea salt.
Bonus Step
Receive kudos from your dining companions for whipping up something so tasty and nutritious!
Shop like a pro, too!
Guys need to eat more plant-based food to stay healthy, Ned says. "It's easy! Aim to have vegetables on half of your plate." Shea couldn't agree more: "I just love grilling crunchy broccoli, and roasting hearty root vegetables, and putting it all on top of my meals."
Sound tasty? Check out this easy recipe for Grilled Broccoli.
What are healthy recipes all about? "Flavour!" Ned exclaims. The key, he continues, is to have these healthy ingredients on hand when you need them. Here are his go-top tips when it comes to grocery shopping:
Shop with purpose: Know what you're cooking and what you need, and make a list so you can shop and cook with a plan.
Get to know your butcher, your fishermen, your baker: They can help with decisions about ingredients and suggest recipes you wouldn't normally consider.
Mix it up: Mastering certain dishes will build your confidence in the kitchen, and that's a good thing. But you should try new things too. Veer off your shopping list from time to time and pick up a new seasoning or spice, or an ethnic cuisine like couscous, that you've never prepared before. This will expand your horizons and ultimately help you cook like a boss!
More awesome healthy recipes from Chef Ned Bell
Like what you taste from Ned? There's more where that came from! Check out more of his delicious, nutritious and easy-to-make Don't Change Much recipes: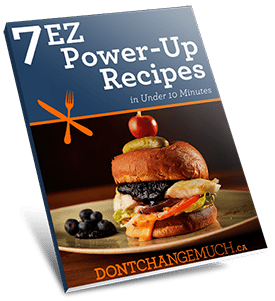 Free e-book
Are you thinking about boosting your energy with tasty and satisfying recipes?
Grab this free e-book "7 EZ Power-Up Recipes" for energy-boosting, satisfying, recipes ready in under 10 minutes.
Check the checkbox to receive more great tips each month.