Bring back your boyhood favourite with an easy, guilt-free pancake recipe. All you need is a banana and 2 eggs for the world's easiest, tastiest breakfast.
If you like to top your pancakes with butter and syrup, ditch the sugar-filled corn syrup for the maple stuff and you'll be glad you did. Better yet, step up your game with other healthy options like applesauce, peanut butter and fruit!
Servings: 8-10 pancakes
What you need
1 large ripe banana
2 eggs
1 tsp cinnamon (optional)
Prep and cooking time: 12 minutes
Step 1
Heat a frying pan on medium heat. While pan heats up, peel and smash bananas in a bowl with a fork, until smooth. Mix eggs in with banana. Add cinnamon for added flavour (1 tsp).
Step 2
Lightly butter your pan. Pour 3 tbsp of batter at a time and cook until bottom appears set (30-60 secs).
Step 3
Flip with spatula and cook for another minute. Repeat until batter is used up. Serve warm!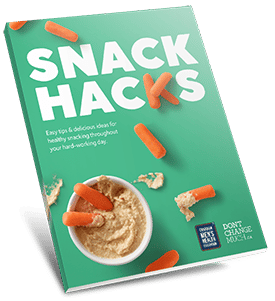 Free e-book
Are you trying to snack healthier? If so, we've got your back!
Grab this free e-book "Snack Hacks", for easy tips and delicious ideas for healthy snacking throughout your hard-working day.
Check the checkbox to receive more great tips each month.