If preparing tastier food in the kitchen isn't enough of a reason to hone your new knife skills, check this out: According to research, guys are deemed to be sexiest when they're whipping up meals!
It stands to reason, then, that knowing MORE about meal-prep can make you MORE attractive. Combine this with the appreciation that comes from making a delicious meal for two, and it's no wonder Casanova knew so much about the culinary arts.
The takeaway here: next-level knife skills might just lead to next-level bedroom thrills! Here are some easy tips to help make BOTH things happen: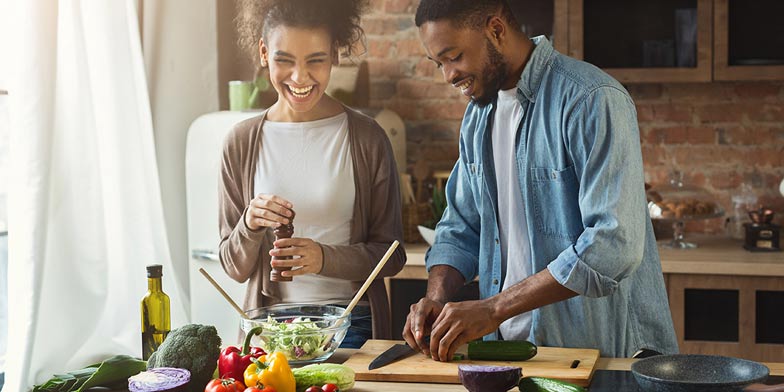 Top and tail for the win
If you're cutting something round, like a tomato or a melon, it's a good idea to "top and tail" the food first so it's easier and safer to work with. All you have to do is cut off the bottom and top ends. This gives you a flat working surface and better stability while you're working your culinary (and sexy) magic.
What kind of recipe uses topping and tailing? Check out this awesome example: Smashed Chickpea Pesto Sandwich
Easy dice it
After topping and tailing your round item, cut it in half vertically from flat side to flat side, then separate the sides and dice them up individually. "Dicing" is a good way to describe this kind of cutting, as the pieces of food should end up being around the same size as a six-sided dice.
Here's a great, easy recipe that involves dicing: Game Day Chili-Stuffed Sweet Potato
Manly mincing
Mincing means cutting food into tiny pieces that will dissolve when you cook them. Garlic, fresh ginger and onion is often minced. Start by dicing, then run your knife back and forth across the diced food several times until it starts to look like a paste.
Mincing comes into play in this tasty recipe: Grilled Broccoli Tomato Kebabs with Garlic Herb Sauce
Caring for your knife
Now that you know what knife skills can do, here's what you can do for your knife. Moisture and food left on the blade can damage it over time, so be sure to clean your knife with dish soap and warm water after each use. Then wipe it down immediately with a clean dish cloth or paper towel.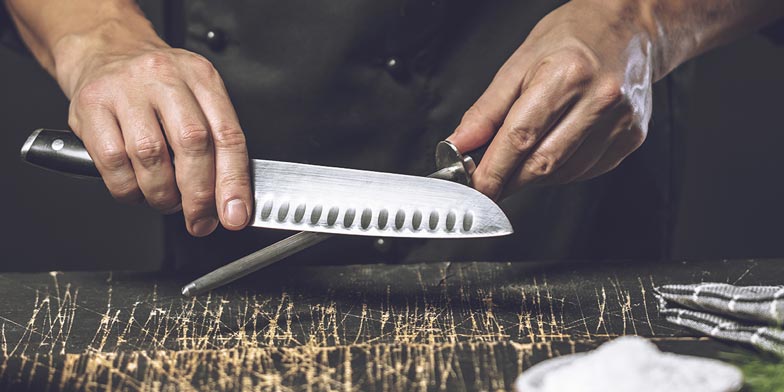 Sharpening your knife
A dull knife requires more pressure to cut, so you are more likely to cut yourself. That's why sharpening the blade once every spring, summer, fall and winter is an essential part of proper care. It only costs a few dollars to have your knife sharpened professionally, but doing it yourself is easy.
All you need is a whetstone — a type of rectangular brick that's widely available online and in kitchen stores for around $5 — on which you rub the blade of your knife at an angle of around 20 degrees. Sharpen the blade until it can easily slice through a piece of paper, and always sharpen it in the same direction using steady pressure and long, even strokes.
More pro tips:
DON'T wash your knife in the dishwasher, especially if it has a wooden handle.
DO light candles, put some Barry White on the stereo, and make sure your dinner date sees you strutting your stuff in the kitchen!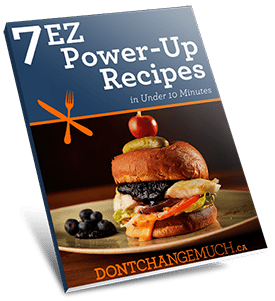 Free e-book
Are you thinking about boosting your energy with tasty and satisfying recipes?
Grab this free e-book "7 EZ Power-Up Recipes" for energy-boosting, satisfying, recipes ready in under 10 minutes.
Check the checkbox to receive more great tips each month.