Father's Day is the perfect time to buff up your dad-duty goals for the coming year. Unless you're Liam Neeson in that movie Taken, you've got more to think about than how to save your daughter from the plight of international murderers – for the third time since high school. Thankfully, most dads don't need to apply their "particular set of skills" to rescuing their kidnapped kids as a hobby. The little ones will be just as impressed when you show them what a man-made breakfast looks like in the kitchen.
What you'll need:
2 cups milk (try a low fat milk if you really want to wow your wife, plus it tastes pretty much the same)
2-4 eggs
1 tsp sea salt
2 tsp cinnamon
2 tsp real vanilla extract (the imitation stuff is just nasty)
Whole wheat bread, sliced
Sliced bananas, fresh strawberries
8 tsp Grade A maple syrup (We're Canadian, after all, plus it's chock full of antioxidants and anti-inflammatories)
How to make it:
Combine the milk, eggs, spices and salt in a bowl. Throw in some bread slices and let them soak for a minute or two.
Grab a non-stick pan and put in just enough butter to coat the surface. Fry on medium-to-low heat for a minute or two on each side.
Plate the bread, toss on some fruit and maple syrup and serve.
Pro tip: Still craving bacon? Give turkey bacon a chance. Close your eyes and see if you can really tell the difference.
This article was originally published on June 19, 2015.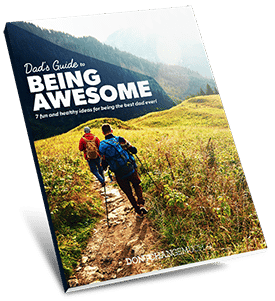 Free e-book
Get the Dad's Guide to Being Awesome e-book!
How can you make memories if you aren't staying healthy? Grab this free e-book "Dad's Guide to Being Awesome" right now and we'll help you stay on top of your game.
Check the checkbox to receive more great tips each month.