What's not to like about the letter Z? It kicks off awesome words like zombie and zamboni, wraps up blitz and buzz, and makes up most of pizzazz.
Let's face it: If you heard that a blitzed zombie was zipping on a zooming zamboni, you'd probably want to whiz over and check it out AZAP.
This brings us to zucchini. In addition to starting with the coolest of letters, this dark green sausage-shaped vegetable is a healthy-eating powerhouse. It contains zero fat, is high in digestion-aiding fibre, and is packed with vitamins and minerals. No wonder zucchini is one of the stars of Canada's new Food Guide, which encourages Canucks to eat a diet of roughly half fruits and veggies.
What's a good zucchini recipe? Just ask Don't Change Much team member Seshley, who has already shared awesome recipes for Cilantro Lime Vinaigrette dressing and Potato & Leek Soup. Zucchini is great for grilling, so Seshley throws down her BBQ Zucchini Boats all summer long. "This recipe is an easy one that doesn't require much chopping, slicing, or prep," she says. "I serve it as a meal with a side of rice or baked potato."
Is your mouth watering yet? Here's the easy three-step recipe from the grill guru herself: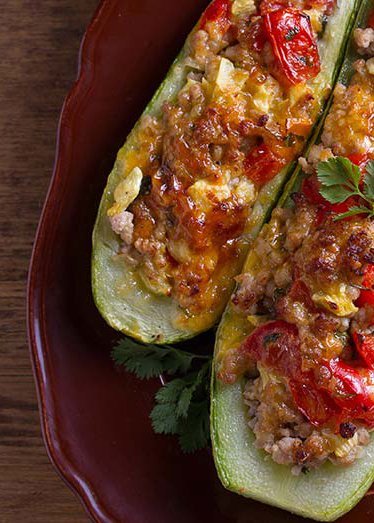 What you need (serves 4)
Avocado oil, olive oil, or cooking spray
4 medium-sized zucchini
4 garlic cloves
Half an onion
1 pound / 500 grams of ground turkey
1 1/2 cups of BBQ sauce
Salt and pepper to taste
Half a cup of grated cheddar cheese
A bunch of green onions
Instructions
Step 1
Time to get prepping! Trim the tips off the zucchini, cut them in half, and use a spoon to scoop out the centres to create boats (leave at least half an inch of zucchini along the edges of the boat). Then brush the boats all over with oil, or spray them with cooking spray. Next, mince the garlic cloves, dice the onion, roughly chop about half of the scooped-out zucchini, and set it all aside on a plate.
Step 2
Preheat your BBQ to medium heat. Grill the boats, flat side down, for about 4 minutes, then turn them and grill for another 4 minutes. While the boats are grilling, add 1 tablespoon of olive oil to a cast-iron skillet and place it on the grill next to the boats. (If you have a BBQ side-burner, you can use a regular pan over medium heat. If you don't have a skillet or a side-burner, no worries: Just use a pan on the stove. In this case, it's a good idea to finish grilling the boats first so you don't have to run back and forth.) Add the minced garlic and onion to the pan or skillet, and sauté for about 5 minutes. Add the ground turkey to the pan, sautéing for 2-3 minutes while breaking up any chunks.
At this point, your boats should be nicely grilled. Turn off the burner under them (leave the other burners on), and let them rest on the grill.
Add the chopped zucchini pieces to the pan or skillet and sauté for an additional 4-5 minutes. Add the BBQ sauce, salt and pepper, and stir.
Step 3
Scoop the filling from the skillet or pan into the zucchini boats right on the grill, then sprinkle the cheese on top. Close the BBQ lid and wait 10 minutes (or until the cheese has melted).
Then remove the boats from the grill, garnish with green onion, and serve.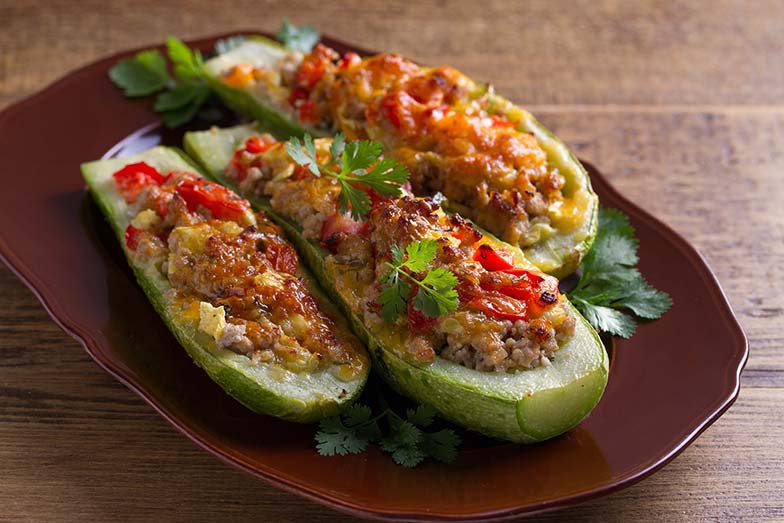 So gentlemen, start your zambonis, zoom (very slowly) to the nearest grill, and get your zesty zucchini on!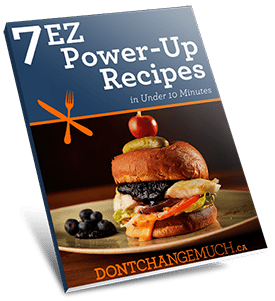 Free e-book
Are you thinking about boosting your energy with tasty and satisfying recipes?
Grab this free e-book "7 EZ Power-Up Recipes" for energy-boosting, satisfying, recipes ready in under 10 minutes.
Check the checkbox to receive more great tips each month.