Bibim-what-now? Pronouncing this protein-packed Korean dish is easier than it looks: "Bib" (like the baby food catcher), "im" (as in "brim"), and "bap" (like "cap"). Put 'em together, and you've got bibimbap. Say it five times fast and you're ready to start a jazz band!
Fun to say, easy to prepare
Bibimbap means "mixed rice" in Korean, which makes perfect sense: Take a bowl of warm brown rice, top with some sautéed vegetables (i.e,.zucchini, red peppers, onion and mushrooms), stir the veggies into the rice, combine with a teaspoonful of store-bought chili paste and a dash of soy sauce, and you're practically there. Stir in a fried egg to this steaming, savoury stir fry and you'll like a chef!
Try this easy Bibimbap recipe:
Ingredients
3 cups brown rice
1 lb of chicken
8 fresh pastured eggs
2 cups chopped crunchy vegetables such as carrots, radishes, cucumbers, zucchini, etc.
2 cups leafy greens and herbs, chopped roughly
scallions, chives, or garlic
hot chili sauce of choice for serving
Instructions
Cook rice according to package directions. Fluff with a fork and add butter if desired.
Prepare vegetables by chopping into bite-sized pieces and arranging in small dishes or on a larger platter.
Cook meat until browned, remove from pan and set aside.
Fry eggs, preferably sunny side up or over easy.
Bring everything (and everyone) to the table with some hot sauce. Everyone gets a bowl of rice and can add proteins, vegetables, and sauce as desired.
Bring bibimbap for lunch
Not only is bibimbap delicious and easy to prepare, it can also be produced in bigger batches for on-the-go lunches throughout the week.
Cook a big batch of rice and lightly sautée veggies ahead of time. Once everything has cooled off, store in the fridge for up to 5 days using sealed plastic containers.
When you're ready to eat; crack an egg into a mug and pour in about 1/3 cup of water. Cover the mug with a microwave-safe plate. Place in the microwave and cook on 50% power for 60 seconds. Use a cloth to remove the plate and check the egg. If it is not done yet, return to microwave and cook in 20 second bursts, until done.
Reheat your rice and vegetables, remove the egg from water, place on top, and you're ready to eat!
(Click here to check out more easy lunch options like this.)
Tasty, easy and good for you
If your co-workers aren't already impressed by your lunch, hit them with the health benefits. Bibimbap packs a solid 18g of muscle-building protein per serving. Plus, it's high in both calcium and potassium, both of which tick boxes on the good-for-you chart.
So go ahead and whip up a protein-packed bowl of Bibimbap! Trying a new recipe is hungry work, after all…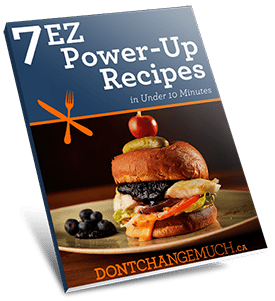 Free e-book
Are you thinking about boosting your energy with tasty and satisfying recipes?
Grab this free e-book "7 EZ Power-Up Recipes" for energy-boosting, satisfying, recipes ready in under 10 minutes.
Check the checkbox to receive more great tips each month.