Here at Don't Change Much, we don't just make it easy for you to live a healthier life. We make it next-level easy!
Eating a healthy amount of fruits and vegetables is a prime example of this. The latest version of Canada's Food Guide encourages you to eat a daily diet of roughly half fruits and vegetables in order to maintain a healthy diet. Put another way, 6 to 10 servings of fruit & veg is your goal.
That's where we make things next-level easy with these photos of what a day's worth of fruit and veggies looks like: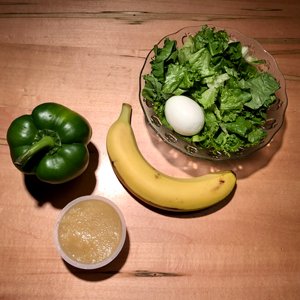 The crunchy salad pictured here is made with 6 cups of leafy greens, and is worth about 3 servings of veggies. (The boiled egg adds a shot of muscle-building protein.) Dice up that zesty green pepper and mix it in, and that's 2 more servings. Top it all off with a banana (1 serving of fruit) and a cup of applesauce (1 serving), and you've nailed your healthy goal!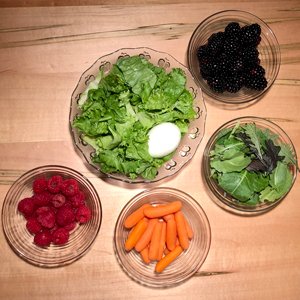 This time, let's break things down my meals. For breakfast, you top your oatmeal with 16 juicy raspberries (worth 1 serving of fruit). At lunch, you jump on the 6-cup green salad train again (3 servings), and for your afternoon snack you dip 12 baby carrots (1 serving) in some lip-smacking hummus or tzatziki. When dinner rolls around, you go for 4 cups of crunchy baby kale or spinach salad (2 servings), and a dessert of dark chocolate and 16 blackberries (1 serving). As far as goals go, you just scored a slam dunk!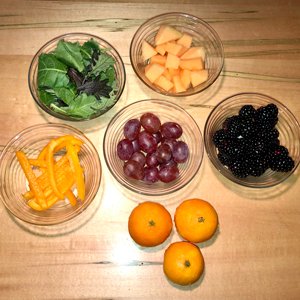 Snacking is an easy and tasty way to get your fruit & veg. In fact, 5 of the grab-and-go snacks pictured here — a cup of cubed cantaloupe, 16 grapes, veggie strips from half a yellow bell pepper and 3 mandarin oranges — are worth one serving each. Add a four-cup baby kale or spinach salad, and hey presto! Goal achieved.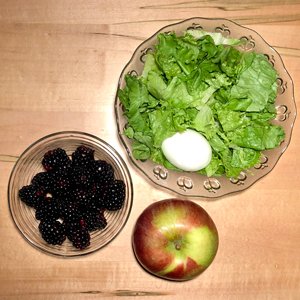 Go big with a six-cup green salad at lunch and you get 3 servings of veggies. A large apple (2 servings) and 16 blackberries (1 serving) later, you've made the grade!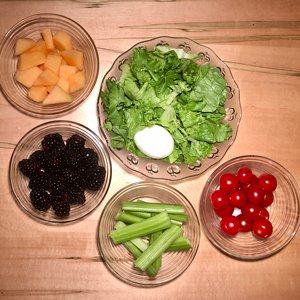 Now let's mix things up: 16 blackberries with your oatmeal (1 serving), a six-cup green salad with 12 cherry tomatoes for lunch (4 servings), 12 celery sticks and dip at snacktime (1 serving, feel free to double-dip), and a cup of cubed melon with dark chocolate as an after-work reward (1 serving).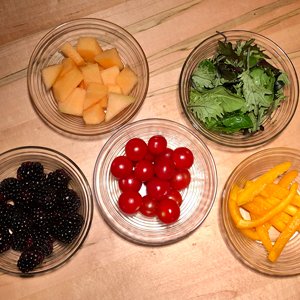 Man-sized salads can work as snacks too! A 4-cup baby kale or spinach salad (2 servings) goes great with half a yellow pepper cut into strips (1 serving) and 12 cherry tomatoes (1 serving), leaving you with a cup of sweet melon (1 serving) and 16 juicy grapes (1 serving) to help fill the hunger gap.
Another way to get your greens
This (ahem) handy guide from the Dieticians of Canada shows you how to measure food portions with your hand. One serving of lettuce, for instance, is the size of your fist. Half a fist is a strawberry serving, and a cupped handful does the job for dried fruit.
Of course, you'll need those hands to actually prepare the food, open stuck jar lids, and last but not least, seduce sexy kitchen-mates…
If there's a fruit or vegetable you love to snack on, go ahead and share your healthy tip in the comments below!
Photo credit: Ava Bisby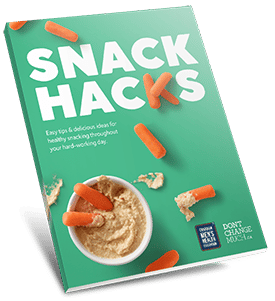 Free e-book
Are you trying to snack healthier? If so, we've got your back!
Grab this free e-book "Snack Hacks", for easy tips and delicious ideas for healthy snacking throughout your hard-working day.
Check the checkbox to receive more great tips each month.