If you're starting to have a hard time pushing paper its time to perk up and make yourself the Man's Power Smoothie. 5 ingredients, two minutes of work to walking away from those uncontrollable sweet-tooth cravings and 3pm lows.
Apple Spinach Power Smoothie Recipe:
1 large green apple that is quartered
1 cup spinach leaves
1/2 a banana
1/2 cup of ice
1/2 cup of water
Instructions: Simply blend and enjoy!
Bonus: The vitamins and minerals that you get from the apples, banana and spinach are equivalent to 3 serving sizes of fruits & veggies!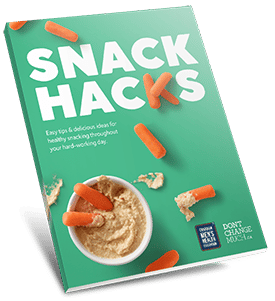 Free e-book
Are you trying to snack healthier? If so, we've got your back!
Grab this free e-book "Snack Hacks", for easy tips and delicious ideas for healthy snacking throughout your hard-working day.
Check the checkbox to receive more great tips each month.