It may not be on every guy's bucket list, but a trip to Britain's National Giant Vegetables Championship may well be worth the price of admission.
In 2016, for instance, you could have checked out the longest carrot in recorded history. Believe it or not, the freakish vegetable was 624.5 centimetres from tip to tip. That's 20 feet and 5.86 inches — longer than a pickup truck, and nearly three times as long as Shaquille O'Neal is tall!
Then there's the world's heaviest carrot, which was pulled from the ground in Minnesota a year later. How much did that sucker weigh? An astounding 10.17 kilograms, or 170 times as much as one average-sized carrot!
If all this talk of carrots is making you hungry, your appetite knows what's good for you. Carrots are jammed with digestion-aiding fibre and healthy nutrients like Vitamin C, potassium, and especially beta-carotene, which gives the veggie its orange colour. Your body converts this chemical into Vitamin A, which helps keep your eyes and skin healthy. Yes, it's true: eating carrots really does aid eyesight. A 2014 study, meanwhile, found that eating more carrots produced "a significantly decreased risk of prostate cancer," which is the second-most-common form of cancer among men. No wonder Bugs Bunny AND the Energizer Bunny are still going strong!
Your appetite also knows what tastes good and is easy to prepare. Carrots are a snap to peel and don't need to be washed afterwards. Served raw, they're ideal for dipping, and are just as delicious when cooked and tender. What is a great carrot recipe? Check out this easy six-step gem:
Rosemary Glazed Carrots
This side-dish feeds two people, so double the ingredients if you want to feed four, or if you want some leftovers to enjoy with baked salmon or grilled lemon chicken the next day for lunch. If you were to use the world's largest carrot, however, you could feed 80 people, give or take…
Ingredients:
Half a cup of chicken stock
1 teaspoon of butter
4 medium-sized carrots
1 teaspoon honey
1 teaspoon dried (or fresh) rosemary
Pinch of salt and pepper
Step 1: Combine the chicken stock and butter in a large non-stick pan over medium heat.
Step 2: Cut the carrots into slices and put them in the pan.
Step 3: Cover the pan with a lid and leave it for about 7 minutes.
Step 4: Remove the lid and cook until no liquid remains, about 5 minutes.
Step 5: Add the honey and rosemary and cook until the carrots are coated, 2 to 3 minutes.
Step 6: Season with salt and pepper.
More ideas for cooking with carrots
Want more healthy and delicious recipes for cooking with carrots? Check out these beauties:
Do you have another carrot recipe up your sleeve? Share your good taste in the comments below!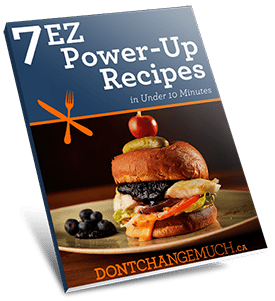 Free e-book
Are you thinking about boosting your energy with tasty and satisfying recipes?
Grab this free e-book "7 EZ Power-Up Recipes" for energy-boosting, satisfying, recipes ready in under 10 minutes.
Check the checkbox to receive more great tips each month.