Hey dads, have you packed on a few COVID pounds? Now's the time to replace junk food with easy and tasty snacks.
Any idea what the "19" stands for in COVID-19?
If you said "2019" — the year the disease was discovered — then give yourself a pat on the back. You nailed it!
If you said, "the number of pounds my family has gained since this coronavirus sh*t show began," you're far from alone. With physical distancing forcing most of us to stay closer to home, and with much of the outside world in hibernation, it's no wonder household snacking has gone through the roof. Stress + boredom = overeating!
The good news: When it comes to COVID-induced munchies, it's easy to lead the brood into healthier snacking territory with these quick and easy snack ideas.
Swap when you shop
With trips to the supermarket fewer and farther between these days, grocery carts tend to be piled higher than usual. Snack healthier by making sure your Leaning Tower of Pisa grocery cart contains lots of nutritious and delicious snacking options. Make these easy swaps when you start building that tower, and you'll return a household hero with healthy snacks for your kids and your significant other.
In: Whole-grain bread. Out: White bread
If you eat white bread, you're getting about as much nutrition as chewing on cardboard. OK, it's not that bad, but white bread is stripped of a lot of nutrients before it's even baked. Avoid the white stuff and grab a loaf of whole-grain bread when whipping up that PB & J.
In: Club soda. Out: Pop
A can of pop tastes sweet, sure, but its empty calories pack as much sugar as a Mr. Big candy bar. Try calming your pop cravings with fizzy club soda, which you can jazz up with a squirt of citrus or slice of watermelon.
In: Nuts. Out: Potato chips
Kick the unhealthy chip habit by replacing them with salted almonds or cashews. Nuts contain muscle-building protein, healthy fats, and far more fibre and nutrients than potato chips, so you can eat less and feel full for longer. Plus, a can of nuts lasts longer between shops than a half-eaten bag of chips. On that note…
Favour long-lasting fruits & veggies
Healthy swaps should also include plenty of inexpensive fruits and vegetables: juicy apple slices instead of salty pretzels, crunchy carrot sticks instead of greasy chips, and sweet oranges instead of sugary cookies. Tender bananas, which are sweet replacements for fatty cakes and doughnuts, should be eaten sooner than the other healthy examples, which can stay ripe for weeks in the fridge. Some people enjoy overripe bananas — they make the best banana bread — but stale doughnuts? THE HORROR!
Last but definitely not least, providing nutritious and delicious snacks for your kids may help them develop healthy eating habits later in life. "World's Greatest Dad" is right!
Mix it up
You've filled the kitchen with healthy fare (and saved money to boot). Well played! Now it's time to put those ingredients together in these super-easy recipes from our awesome new "Snack Hacks" ebook.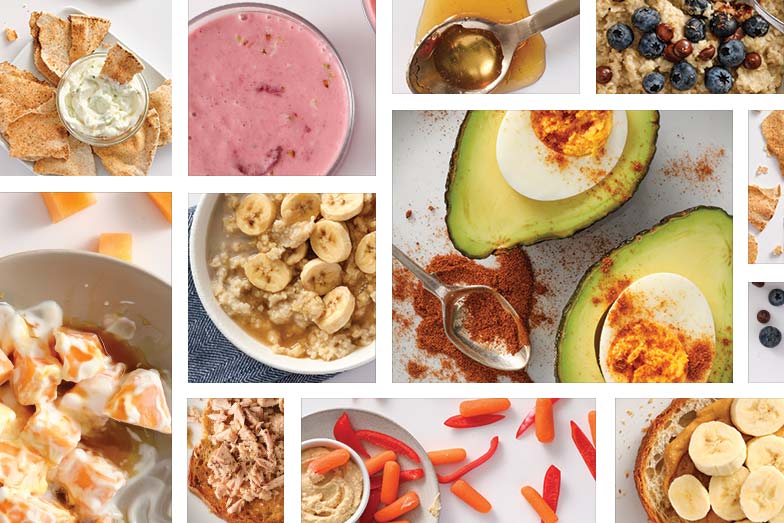 Greek yogurt, maple syrup, and cantaloupe
Separately, these three low carb snacks deliver all the healthy goods. Non-fat Greek yogurt contains double the protein of your average plain yogurt; diced cantaloupe is naturally sweet and full of vitamins, minerals and fibre; and maple syrup is a natural sweetener that
contains healthy antioxidants. When mixed together in a sealed plastic container, the trio delivers creamy, sweet and tender tastiness wherever your family is headed — you know, like the back yard.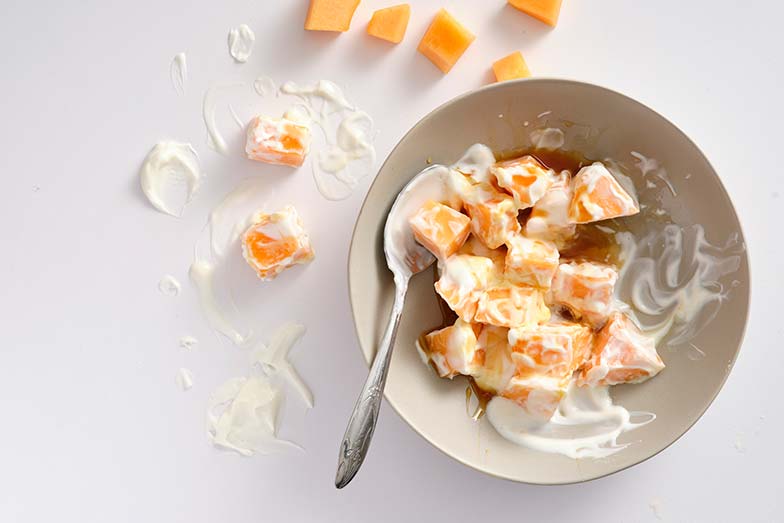 Baby carrots with hummus
It doesn't get much easier, or a whole lot tastier, than buying a bag of those crunchy baby-cut carrots, a container of prepared hummus, and taking turns dipping like you've never dipped before. Carrots, after all, are jammed with vitamin A, which keeps your eyes and skin healthy. Hummus is made of chickpeas, which are packed with protein, fibre and other nutrients. Plus, hummus keeps well in the freezer and can be quickly defrosted when the brood gets hangry (hungry and angry). Again: THE HORROR!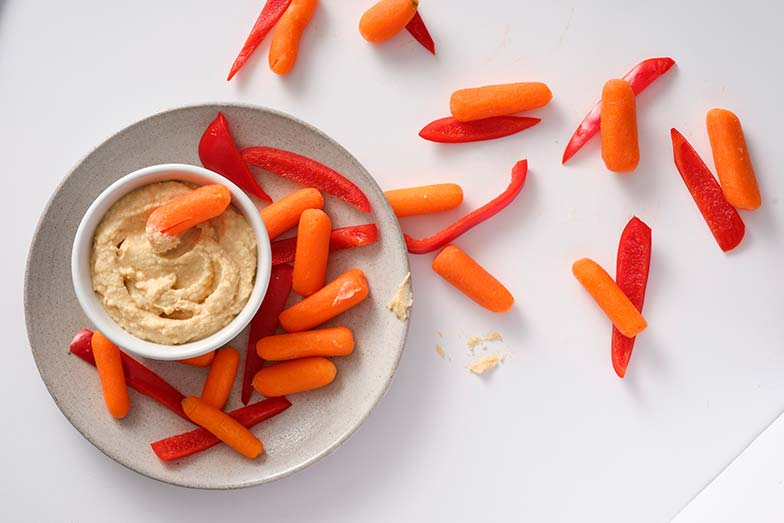 Tzatziki with whole-wheat pita bread
Deliciously creamy tzatziki must have been a favourite of Hercules, the super-strong hero of Greek mythology. A two-tablespoon serving of the store-bought stuff contains nearly 10 percent of the muscle-building protein you need in a day, along with a healthy portion of bone-strengthening calcium. You and the crew can continue the Greek theme by tearing off chunks of whole-wheat pita bread and dunking it in the freezer-friendly tzatziki. That way, you all get a healthy dose of fibre and iron to boot.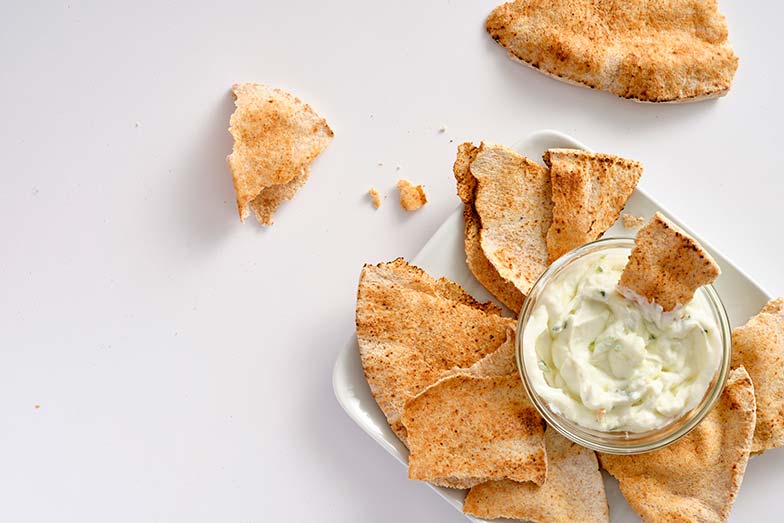 There's more where all that came from. Download the free ebook right now!
Reward yourself
Reaching into a bag of chips now and then isn't the end of the world. In fact, research suggests treating yourself can help you stick to a healthy snacking plan. Controlling cravings isn't easy, and if you never satisfy those cravings, it can be tempting to bail out. You're only human, right?
So when you make progress with any of the healthier snack ideas listed above, set aside one night a week to spoil yourself with a bag of nachos during yet another Netflix movie, a slice of pizza while watching playoff reruns, or whatever combo floats your boat.
After all, "19" could also be the number of times you've rewatched your team winning the title. Or should we add a zero?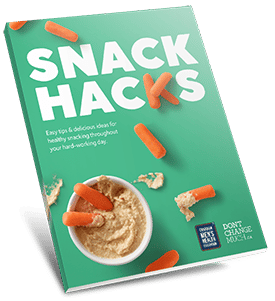 Free e-book
Are you trying to snack healthier? If so, we've got your back!
Grab this free e-book "Snack Hacks", for easy tips and delicious ideas for healthy snacking throughout your hard-working day.
Check the checkbox to receive more great tips each month.
---
This article is made possible by the support of generous sponsors.