My all-time favourite Chefs Plate sandwich takes the guesswork out of dinner
Piled high with Grade AAA tender steak strips and oozing melted cheese, this mouthwatering photo of a sandwich and crisp green salad on the Chefs Plate's menu instantly made my mouth water. All drooling aside, the lightbulb in my head lit up. Ding! I knew exactly what I was going to have for supper for a fraction of the cost of restaurant dining. Better still, the other lip-smacking dishes on the menu did the trick for the two dinners after that.
It also took a load off my daily shopping list. Everything I needed for my all-time favourite sandwich was included in the meal kit, meaning I didn't have to scour the supermarket for pricey meats and fancy condiments that would stay in my fridge door for months (if not years).
The experience was so positive, I just had to take a picture of my plate and share the love!
My sandwich just before I devoured it
I never thought I could have a restaurant-quality supper on my dining table at home.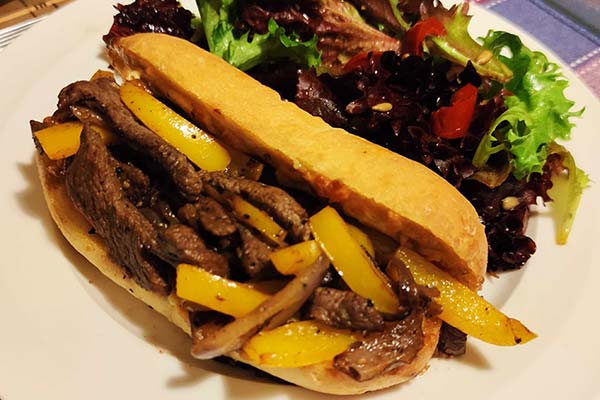 Here's the meal kit delivered to your door.
Serves 2
285 g or 2½ cups Grade AAA steak cut into thin strips
2 pc Artisan rolls
85 g or ½ cup Shredded Cheddar-Mozzarella Cheese
56 g or 1 medium pc Sliced red onions
160 g or 1 pc Sweet bell pepper
56 g or 4 tbsp Mayonnaise
14 g Chunky roasted garlic (2 cloves of finely chopped garlic baked on a piece of foil, drizzled with olive oil and sprinkled with salt and pepper)
15 ml or 1 tbsp White wine vinegar
30 g or 1 pc Cherry bomb pepper
56 g or 1 cup Baby field greens (combine baby spinach, kale, and arugula salad)
5 g or 1 tsp Montreal Spice (combine pepper, dill, coriander, and garlic spices)
14 g or 1 tbsp Sunflower seeds
Pantry items (not included in the kit)
It comes with IKEA-like step-by-step cooking and assembly instructions!
Preheat the oven to a high broil. Start the recipe when the oven is ready.
Total Time: 15 minutes
Step 1: Cook Steak
In a large non-stick pan, heat 1 tbsp oil over medium-high heat. While the pan heats, line a plate with paper towel and pat steak dry. Sprinkle with Montreal Spice. When the pan is hot, add steak. Cook, stirring often, for 3-4 minutes, until browned. Transfer steak to a plate and set aside.
Step 2: Cook Veggies
While steak cooks, wash and dry all produce. Cut bell pepper into ¼-inch slices. In the same pan, heat 2 tsp oil over medium-high heat. When the pan is hot, add onions and peppers. Cook, stirring occasionally, for 3-4 min, until softened. To the pan, add cooked steak and season with salt and pepper. Toss to combine. Remove stems and roughly chop pickled cherry bomb pepper, removing seeds for less heat.
Step 3: Make Melts
Cut artisan rolls in half and place directly onto a baking sheet, cut-side up. In a small bowl, mix mayonnaise with chunky roasted garlic. Spread garlic aioli over each roll, then evenly sprinkle shredded cheddar and mozzarella cheese over the cut-sides. Broil in the middle rack of the oven, for 1-2 minutes, until cheese melts.
Step 4: Assemble Salad and Serve
While cheese melts, in a large bowl, whisk together vinegar and 1 tbsp oil. Season with salt and pepper. Add baby field greens, pickled cherry peppers and sunflower seeds. Toss to coat. Top the cheesy toasts with the steak mixture, and serve the salad alongside.
What's your go-to dinner dish? Share your faves in the comments below.