You've mastered the art of a perfectly cooked steak, now it's time to put your skill to the test. The combination of lean, juicy, marinated flank steak, and fresh vegetables makes this the perfect, healthy, low carb dish to add to your list.
Load them on a plate as a game day snack with the guys, serve them for a weeknight meal, or double the recipe and pack them for lunch because they are also good cold!
Go ahead, give them a try.
Cook Time: 15 min   Servings: Up to 6
What you'll need:
1.5lb lean thin flank steak
1 tbsp olive oil (health swap: use coconut oil)
6 asparagus spears
1-2 carrots
1/2 zucchini
1 red bell pepper
Marinade:
1/8 cup balsamic vinegar
1 tbsp sesame oil
1/4 cup soy sauce
2 tbsp honey
Splash of orange juice
1 tbsp garlic
1 tbsp ginger

Instructions: 
Marinate the steak:
Chop the ginger and garlic. Mix all marinade ingredients in a bowl.
Set aside about 1/4 cup of marinade to drizzle on the steak rolls after they are baked.
Make sure your flank steak is thin to start. Cut into six 3 inch wide strips.
Add steak strips to mixture and let marinade for 20 mins.
Go time:
Set oven to 375F.
Wash vegetables before starting. Cut vegetables into pencil thin strips.
Place a strip of steak flat on a plate, add vegetables and roll it up. Use a toothpick to hold it together. Repeat.
Add cooking oil to a hot pan, and sear the steak rolls for about 30 secs. Use tongs to turn each steak roll over, and sear again for 30 secs.
Put steak rolls in a baking dish. Bake for 10-15 minutes at 375F.
Drizzle steak rolls with the leftover marinade and eat! Store in the fridge for up to 3 days.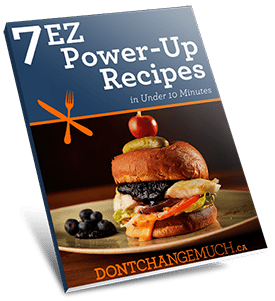 Free e-book
Are you thinking about boosting your energy with tasty and satisfying recipes?
Grab this free e-book "7 EZ Power-Up Recipes" for energy-boosting, satisfying, recipes ready in under 10 minutes.
Check the checkbox to receive more great tips each month.