Arnold "The Terminator" Schwarzenegger prefers chickpeas over steak? It's true! According to the action-movie and bodybuilding legend, Arnie and his family "started going more in the direction of a vegetarian kind of diet. Now we're doing it the right way, with spices, and all of a sudden, I love it much more than meat."
Going meatless for a day or two each week is good for your taste buds, health and wallet. Here are three easy recipes you can use to make "Meatless Monday" a delicious reality:
Breakfast: Pump-You-Up Oatmeal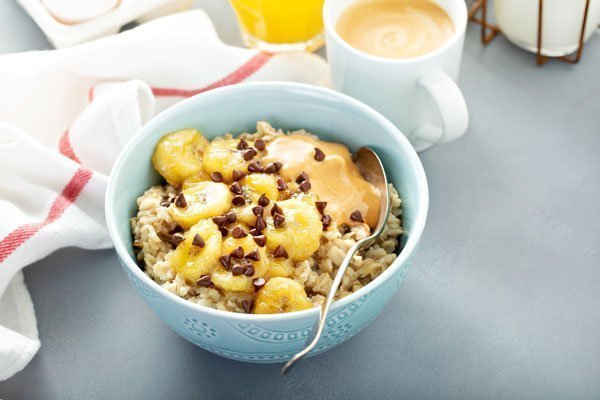 This hearty engine-starter takes minutes to prepare, and delivers healthy doses of protein, fibre, potassium, iron and calcium.
Ingredients (serves one)
½ cup of instant oatmeal
1 cup low-fat or skim milk
1 ripe banana
1 handful of dark chocolate chips
Step-by-step instructions
Step 1:

Mix the oatmeal and milk in a microwave-safe bowl

Step 2:

Microwave on high for 2 minutes, stirring after the first minute.

Step 3:

Carefully remove the hot bowl from the microwave, arrange the sliced banana on top, and scatter the dark chocolate chips over everything. Dig in!
Lunch: Predator's Sweet Potato Pods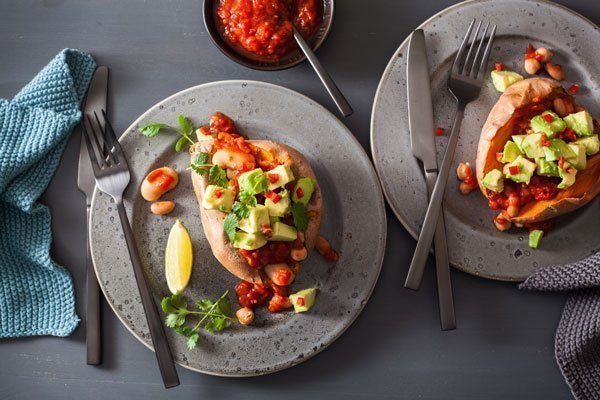 Prepare these protein- and nutrient-rich pods on Sunday while you watch the big game, wrap them in aluminum foil and put them in the fridge, and then deploy them for Monday's lunch after a couple minutes in the break-room microwave.
Ingredients (serves 1)
1 large sweet potato
½ tbsp olive oil
1 tomato
1 small can (389mL) low-sodium black beans
⅓ cup green onions
½ tbsp chili powder
½ tbsp ground cumin
2 tbsps low-fat sour cream or plain yogurt
Step-by-step instructions
Step 1:

Place sweet potatoes on a baking sheet and bake at 400F for 40-50 minutes.

Step 2:

Chop tomatoes into dice-sized pieces, and chop green onions. Drain beans with a strainer and rinse with cold water.

Step 3:

Add cooking oil to a pan on medium-heat and add the tomatoes, green onions, black beans, chili powder and ground cumin. Reduce heat to low, cover and cook the savoury medley for 5 minutes.

Step 5:

To check if sweet potatoes are done, remove them from the oven and stab them through the middle with a sharp knife. If the blade goes through easily, they're ready. Slice each potato in half lengthwise, and scoop out a bit from the top to make a hole for the pan-fried medley. 

Step 6:

Top each half of sweet potato with the medley and sour cream or yogurt.
Dinner: Conan the Barbarian-Sized Salad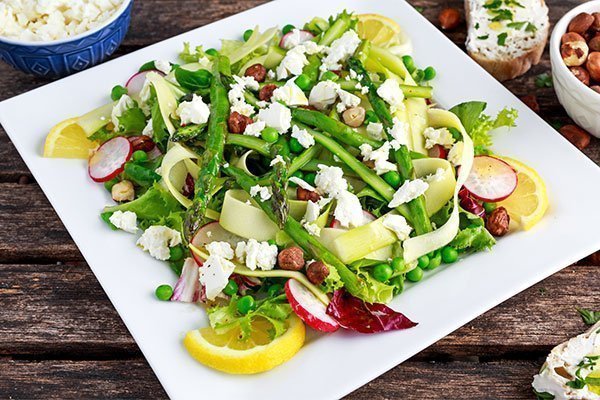 Ingredients (serves 2)
2-3 avocados
1 bunch asparagus
1 cup sprouted (or canned) lentils
½ cup ricotta or goat cheese
¼ cup lightly salted almonds
Extra virgin olive oil (use freely)
2 lemons
Sea salt
Chili spice, seasoned to taste
Step-by-step instructions
Step 1:

Season the asparagus with olive oil, sea salt and lemon zest.

Step 2:

Lightly grill or sauté everything for 2 minutes on each side.

Step 3:

Arrange the avocado, asparagus and lentils together on a plate. If it looks like a miniature spy base, all the better.

Step 4:

Crumble the cheese and almonds on top, lightly pour olive oil on top of that, and sprinkle everything with lemon juice and zest.
Meat marketing versus nutrition reality
Schwarzenegger says one of his latest movies, Game Changers, "terminates outdated myths about protein, strength, and performance," as well as the idea that guys can only get the protein they need from meat. "They show these commercials — 'steak, that's what a man eats' — selling the idea that a real man eats meat. But you've got to understand, that's marketing. That's not based on reality."
That's also where the recipes above come in. As Arnold might say, "Hasta la vista, hunger!"
Got a kick-ass meatless suggestion to share? Bring it on in the comments below!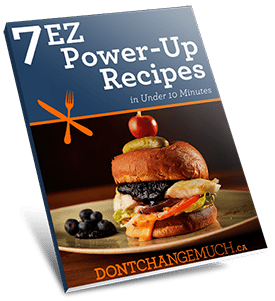 Free e-book
Are you thinking about boosting your energy with tasty and satisfying recipes?
Grab this free e-book "7 EZ Power-Up Recipes" for energy-boosting, satisfying, recipes ready in under 10 minutes.
Check the checkbox to receive more great tips each month.