An easy way we can all improve our health is by keeping our snacking in check. We are not suggesting going all Bugs Bunny and only snacking on carrots and celery. Instead, a good old-fashioned trail mix can cover both your sweet and savoury tooth yet pack a nutritional punch, including protein and fiber that will tide you over until the next meal…
Make your own: Keep a supply of ingredients on hand and fire a few of them—say, a quarter cup's worth—in a Ziploc bag every time you head out the door. We're talking unslated almonds, walnuts, cashews, raisins, dried cranberries, blueberries, apricots, and pumpkin seeds; the list goes on and on. 
Whatever you're up to, there's a trail mix recipe to match. That said, if you're happy with a basic GORP mix—that's Good Old Raisins and Peanuts — then keep doing what you're doing.
Here are a few more ideas to get you started:
The Commuter: Need a little pick-me-up on the drive, ride, pedal or run into work? Throw some chocolate-covered coffee beans, raisins, peanuts and almonds in your (other) insulated coffee mug and munch away.
The Family Picnic: Kids won't touch the potato salad? Mimic the universally popular PB&J with peanuts, dried strawberries, peanut butter chips and shredded wheat cereal.
The Big Game: If the guys are coming over to watch the game, replace those salty pretzels and fatty potato chips with a tasty, satisfying and slightly unusual blend of barbecued almonds, low sodium beef jerky, dried cherries, and sunflower seeds.
Do you have a go-to trail mix recipe? Go ahead and share it in the comments below.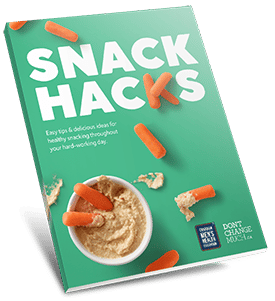 Free e-book
Are you trying to snack healthier? If so, we've got your back!
Grab this free e-book "Snack Hacks", for easy tips and delicious ideas for healthy snacking throughout your hard-working day.
Check the checkbox to receive more great tips each month.