Gentlemen, start your blenders! All three of these unboring smoothie recipes can supercharge guys' engines by adding shots of protein to our diets, along with plenty of essential vitamins and fibre. What are good smoothie recipes? Read on to find out!
If you want some real muscles to go with that muscle car or muscle shirt, proteins are the place to start. They're great for our skin, hair, bones and heart, and they also build muscle tissue. For breakfast, we can't recommend protein-packed smoothies enough. They prevent overeating later in the day, while also providing a longer-lasting energy source than sugary or starchy foods. Here's the clincher: Every recipe on this list is easy to prepare in a turbo rush. Plug in your blender, toss in a few easy-to-find ingredients, push a button, and presto! Breakfast is ready faster than a Formula 1 pit stop.
1. The Red Ferrari
A glass of water
A heaping handful of frozen strawberries
Two large spoonfuls of low-fat Greek yogurt
A few unsalted nuts; a handful of spinach leaves
A scoop of your favourite protein powder
2. The Pole Position
A mug of leftover black coffee
One banana
A spoonful of unsweetened cocoa
A few unsalted nuts
A scoop of your favourite protein powder
A few ice cubes
What the heck is a pole position?! In motorsport, the pole position is at the inside of the front row at the start of a racing event – typically given to the driver with the best qualifying time in the trials before the race. Now you know!
3. The Pitted Stop
A glass of water or milk
A handful of frozen pitted dark cherries
A handful of spinach leaves
A few unsalted nuts
A scoop of your favourite protein powder
A spoonful of cocoa powder
Pro tip: Grind up your nuts first for a smoother smoothie, trust us!
Do you have a killer smoothie recipe you'd like to share? Go right ahead in the comments below!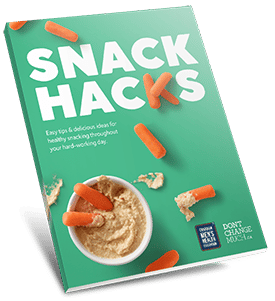 Free e-book
Are you trying to snack healthier? If so, we've got your back!
Grab this free e-book "Snack Hacks", for easy tips and delicious ideas for healthy snacking throughout your hard-working day.
Check the checkbox to receive more great tips each month.