Ever wanted something that could help you sleep well, reduce stress and curb anxiety? Turns out there are apps for all three of those things. In this case, a white noise app might be all you need to finally get some rest.
Big sleep benefits
Can white noise help you sleep? It sure can! White noise drowns out jarring sounds, like a barking dog or that neighbour who listens to death metal at 2 a.m. Overall, it can help you fall asleep quickly and sleep more soundly. It also provides a soothing focal point for your buzzing brain that might otherwise be caught up with worries or dealing with a to-do list.
White noise for anxiety and stress
Getting the sleep your body needs is one of the best ways to reduce stress and anxiety, but white noise can also be used outside the bedroom. For example, popping your headphones on with some white noise during your lunch break can act as a cue for your brain and body to relax and focus on something other than daily stresses. For more ways to give your lunch break a boost, check out: 3 Ways to Give your Lunch Break a Boost
Goes where you go
Whether you're on a business trip, a vacation, or visiting the in-laws (especially if you're visiting the in-laws) it's comforting to know that this sleep-inducing and stress-busting tool is just a few taps away on your phone.
Check out these apps below to get started: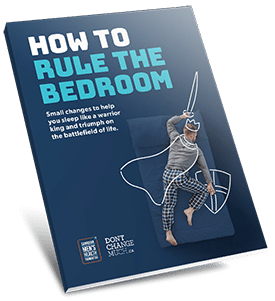 Free e-book
Are you trying to get more and better sleep? If so, we've got your back!
Grab this free e-book "How to Rule the Bedroom" for small changes to help you sleep like a warrior king.
Check the checkbox to receive more great tips each month.