Sawing logs. Calling the hogs. Mowing hay. Rattling the shingles. We use plenty of funny expressions to describe snoring, what with one in three Canadian guys being a snorer.
Snoring can be annoying, no doubt, but it can also be a sign of health concerns if it's obstructive sleep apnea, a condition that affects one in 20 guys. Sleep apnea happens when your tongue and throat relax too much, blocking your air canal.
If you think you may be experiencing sleep apnea, be sure to consult a doctor ASAP to be properly diagnosed.
How to get rid of mild sleep apnea with lifestyle changes
If you have mild sleep apnea, aka snoring, it is possible to get rid of symptoms altogether with simple lifestyle changes. Here are some recommendations:
Avoid alcohol
Nix booze at least two hours before going to bed. Alcohol can make your throat relax more than usual, which can block your airways.
Minimize meds
Only use sleeping pills if your doctor gives you the go-ahead, as they can also relax your throat muscles and slow your breathing even more than usual.
Quit smoking
Smoking can make sleep apnea worse because it can make you cough at night as it irritates your throat. Check these 5 common signs that you're ready to quit.
Get some exercise
Did you know that getting exercise during the day can help you sleep better? Walking around while you talk on the phone, getting off the bus a few blocks early, and the list of easy ways to get in a workout just keeps going.
Sleep on your side
Sleeping on your side is a better position for keeping your throat and airways open while you sleep.
Causes and symptoms of sleep apnea in men
There isn't one specific thing that triggers sleep apnea, but those at greatest risk are overweight men aged 40-plus. An obvious symptom is very loud snoring — sawing logs and then stacking them if you will — along with excess fatigue, frequent nighttime trips to the toilet, or waking up regularly with a dry mouth or headache. Click here for more signs of sleep apnea.
The benefits of giving mild sleep apnea the slip
Keeping your bedmate happy can keep your couch-surfing to a minimum. Making simple lifestyle changes to stop mild sleep apnea symptoms can reduce the risk of several health problems, including low testosterone (Low T), high blood pressure, heart disease, stroke, and erectile dysfunction.
What prevents you from snoring? Share your tips in the comments below!
This article was originally published on November 15, 2017.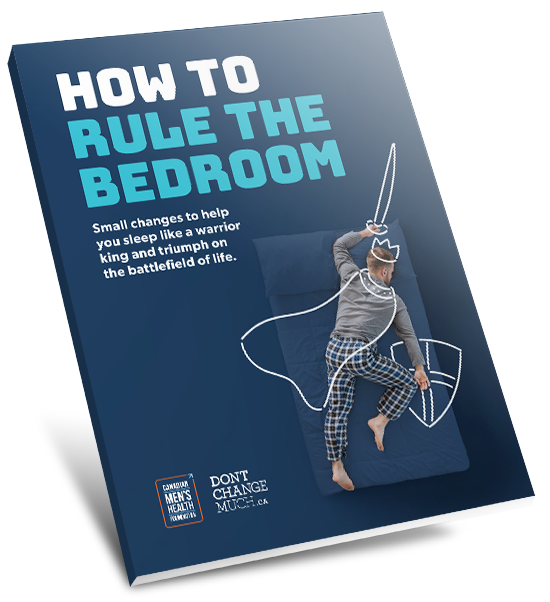 Are you trying to get more and better sleep? If so, we've got your back!
Download the free "How to Rule the Bedroom" ebook right now.
You'll also be signing up for DCM's monthly health tips. Unsubscribe anytime.