Windset Farms® is proud to sponsor the launch of the Canadian Men's Health Foundation's "A Guy's Guide to Eating Healthy". As a family-owned farm, we're invested in the health and wellness of our community, and for us, that starts with what we put on our plates.

John Newell, Owner / COO, Windset Farms®

I grew up in the fertile valley, surrounded by agriculture. My brother and I were naturally drawn to farming and purchased our first 4-acre bell pepper greenhouse together in 1996 in Abbotsford, BC.
As you can imagine being a greenhouse vegetable producer, my diet contains plenty of tomatoes, peppers, and cucumbers. A healthy diet not only reduces the risk of chronic diseases such as heart disease and type 2 diabetes, but it also promotes healthy growth and development, improves mental health, and increases energy levels. Additionally, healthy food choices support local farmers and reduce the environmental impact of food production.
One of my go-to lunches is a simple green salad with butter lettuce, crisp mini cucumbers and sweet cherry tomatoes. Sometimes less is more when you're using fresh ingredients! In the morning I am a big fan of breakfast smoothies or anything I can grab on the go, like a premade breakfast burrito. It's an easy way to get a healthy dose of fruit, vegetables and overall nutrients to start the day off running!
Here are 3 quick and healthy Windset Farms® recipes to kick-start your day. They're easy to make and tasty, so why not give them a try…
3 simple and easy breakfast recipes
Bell Pepper Egg Cup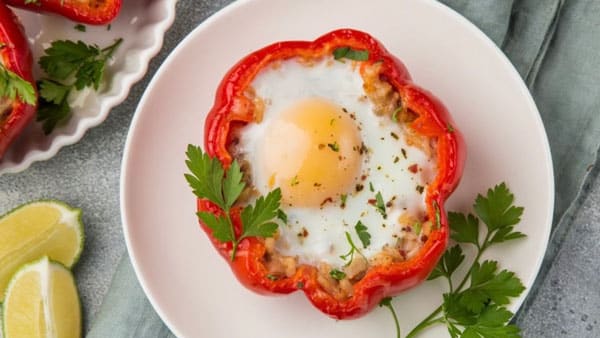 Ingredients:
4 Maestro® Bell Peppers (any colour)
1/4 teaspoon salt, divided between the four peppers
1/8 teaspoon ground pepper, divided between the four peppers
8 large eggs
1/4 cup of shredded cheese (optional)
Instructions:
Preheat the oven to 400 F.
Slice the bottom of each pepper to form shallow cups (reserve the tops for another dish), sprinkle 1/8 teaspoon of salt and pepper on each pepper, and place the peppers on a baking sheet.
Bake the peppers for 15 minutes. Remove from the oven and crack an egg into each pepper cup, season with the remaining salt and pepper, and top with shredded cheese.
Place back in the oven and bake for 15-20 minutes until the egg whites are set.
Sprinkle a little cilantro on top and serve!
Huevos Rancheros & 5 pepper relish
Created by Chef and CMHF Champion Ned Bell.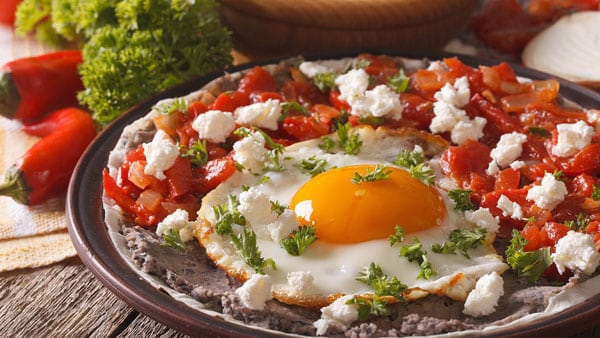 5 Pepper Relish Ingredients:
1 cup red, orange, yellow, green Maestro® Bell Peppers, seeded & diced
1 cup red onion, diced
½ cup white wine vinegar
¼ cup white sugar
2 tbsp Kosher salt
1 tbsp yellow mustard seed
2 bay leaves
*Optional: 1 Hot Pepper, split & seeded
Huevos Rancheros Ingredients:
6 – 8 Concerto® Grape Tomatoes, halved
4 eggs
4 corn tortillas
2 cups black beans
2 tbsp extra virgin oil
Kosher salt
black pepper
1 – 2 avocados, sliced
3/4 cup Queso Fresco cheese to crumble
5 Pepper Relish Instructions:
Combine vinegar, sugar, salt, mustard seed and bay leaves and bring to boil. Add Maestro® Bell Peppers and red onion (add Hot Pepper if you prefer spicy).
Simmer over low heat for 30 minutes and cool.
Jar relish "as is" or purée. Will keep up to 1 month if refrigerated.
Huevos Rancheros Instructions:
Combine black beans with canola oil and purée until smooth. Season with salt and cracked black pepper.
Lightly grill or toast corn tortillas.
Fry eggs sunny-side-up. Poached or scrambled is also great.
To serve, spread 2 – 3 tbsp of smashed black beans on warm tortilla. Add 2 – 3 slices of ripe avocado and crumble 3 tbsp of cheese on top. Top with 2 tbsp. of Maestro® Bell Pepper relish. Top with a fried egg. Garnish with tomatoes.
Optional: serve with dollop of sour cream on the side.
Breakfast burrito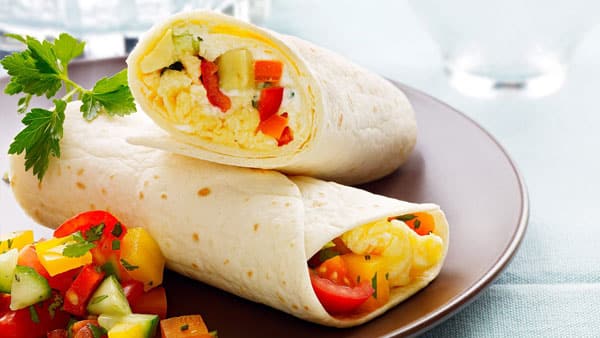 Ingredients:
1 cup Concerto® Grape Tomatoes, halved
1 Maestro® Sweet Bell Pepper, diced
4 flour tortillas, about 8 inches in diameter
8 eggs
1 tsp kosher salt
2 tbsp fresh cilantro, chopped
3 tbsp butter
1 ripe avocado, pitted, peeled and diced
1 cup Monterey Jack cheese, grated
¼ cup sour cream
Instructions:
Preheat oven to 350ºF.
Wrap tortillas in tinfoil and warm in the oven.
Whisk together eggs, salt, peppers and 1 tbsp of cilantro.
In a large, non-stick skillet, melt butter over medium-low heat. Add egg mixture and cook, stirring until almost firm (approx. 4 minutes).
Add avocado and tomatoes on top of eggs and cook until just firm.
Spoon egg mixture down center of each tortilla. Top with cheese and sour cream.
Sprinkle remaining cilantro over and fold.
Why vegetables?
Vegetables are an important part of a balanced diet and can help to provide essential nutrients that can lead to a long and healthy life. Aim to eat a variety of vegetables. This could be as easy as trying one new vegetable a week. For context, the Canada Food Guide recommends eating dark green vegetables every day and orange vegetables a few times a week.
If you feel overwhelmed or intimidated by preparing vegetables, start off small. Slice up half a cucumber to have on the side with your burger, snack on a few tomatoes with hummus, or add a handful of chopped bell peppers to your eggs in the morning. Blending vegetables into a pasta sauce or smoothie is another good way to get nutritious benefits.
For cooked meals, you can try experimenting with different cooking methods to find what you enjoy. Consider using appliances like air fryers or slow cookers to make cooking easier.
Whether you include your vegetables in sauces and smoothies or highlight them in fresh salads and platters, you can't go wrong adding more vegetables to your diet.
Why local produce?
When possible, eat local produce. Eating locally sourced food results in fresher produce, reduced food waste, fewer transportation emissions, and a lower overall environmental impact. At Windset, our produce is grown in a greenhouse, which is a sustainable growing method that prioritizes water and energy conservation, as well as the use of renewable energy. If fresh, quality produce is on your menu, we've got you covered!
For more delicious recipes, check out the Windset Farms® Website.
Do you have a go-to breakfast? Share with us in the comments below.
Know Your Health Risk
In 10 minutes, learn your risk level for the 8 most common health conditions affecting Canadian men. Men's Health Check is free, anonymous and backed by medical experts.