Theodore Geisel, a.k.a. Dr. Seuss, penned "Green Eggs and Ham" on a bet that he couldn't write a book using 50 or fewer words. You won't have to make this easy recipe 50 times for it to become one of your go-to dishes — just once should do the trick! Courtesy of Don't Change Much Champion Chef Ned Bell, this tasty and healthy meal swaps ham for wild salmon fillets, which we're sure Dr. Seuss would have loved despite the fact that "salmon" doesn't rhyme with much. (Famine? Gammon?) Whether you're "in a box or with a fox," as the book says, this delicious high-protein meal shows how easy healthy recipes can be!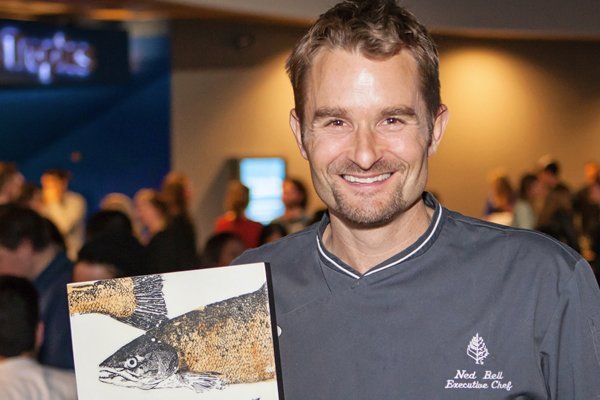 Chef Ned Bell's Green Eggs and Salmon
Serves: 2
Dressing Ingredients:
2 whole ripe avocados, peeled and pitted

2 cups green garbanzo beans (a.k.a chickpeas; put aside 3 tablespoons for later)

1/4 cup chopped fresh basil

1/4 cup chopped fresh chives

1 cup olive oil (extra virgin is best)

2 tablespoons Greek yogurt

Juice and zest (grated skin) of 1 lime

Juice and zest of 1 lemon

1 teaspoon salt

1 teaspoon cracked black pepper
Instructions:
Blend all dressing ingredients in a blender or food processor until smooth.

Adjust seasoning with salt and pepper to taste. Set aside until you're ready to build your breakfast skillet for baking.
Pastrami-Cured Salmon Instructions:
Watch this video

demonstration for how to cure wild salmon fillets.

Once rinsed, coat salmon fillets with a little olive oil, and season with a pastrami spice blend before grilling. We suggest picking up a premade pastrami seasoning blend, but you can also

make your own

.

From there, just keep an eye on the salmon and cook it to your preference. While the salmon is cooking, prepare the breakfast skillet for baking.
Breakfast Skillet Ingredients:
1 avocado

2 tablespoon ricotta cheese

2 eggs per person

Pea shoots (desired portion)

1 wild salmon fillet per person
Instructions:
Preheat your oven to 350 degrees F while you prepare the ingredients.

In a cast iron skillet or oven-safe casserole dish, toss a few tablespoons of the green chickpeas to cover the bottom of the dish.

Add two generous spoonfuls of the green chickpea dressing to the centre of the skillet.

Crack 2 eggs on either side of the green chickpea dressing.

Bake in the oven for 10 minutes or until the eggs are set, but not hard.

Remove from the oven and dish out onto serving plates. Add your salmon fillets once cooked, and top with the ricotta, sliced avocado and pea shoots.

Drizzle with extra virgin olive oil and a squeeze of fresh lemon juice, and check out our photos to see how the dish is presented.
Do you know any can't-miss salmon recipes? Go ahead and share the joy with your buddies in the comments below!
This article was originally published on April 21, 2016.