If you're like me, then you know your way around a grill, especially when it comes to meat, but you may be left a little stumped for what to serve on the side. Side dishes can be an afterthought when you're focused on the main attraction, like that juicy steak, ribs, or burgers.
I've got three super easy sides that you can whip up in no time to accompany pretty much whatever you're BBQing. Wow your family and friends with these dishes, or bring them along to a summertime hangout.
Grilled corn & tomato salad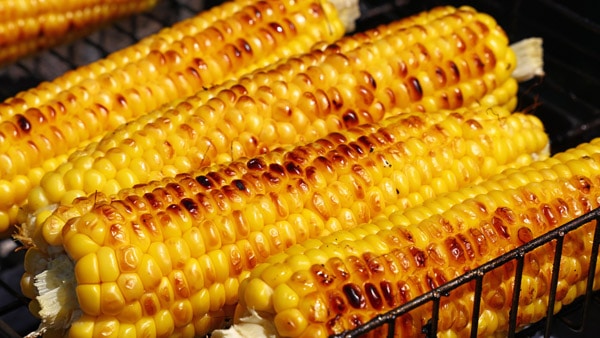 You're already standing at the BBQ, so why not throw on some corn on the cob. About 4-6 will do nicely. Peel the corn, then wrap in tin foil. It will take about 15-20 mins to cook on medium heat. If you want those awesome grill marks, take the foil off towards the end.
Ingredients
4-6 corn on the cobs
Grape or cherry tomatoes
Feta cheese
Olive oil
Lime
Salt and pepper
Directions
Slice the corn kernels off the cob and put them in a bowl
Cut grape or cherry tomatoes in quarters and add to the bowl
For the dressing, add 2 tablespoons of olive oil, half a lime, salt and pepper. You can add fresh herbs like basil, mint or tarragon as well.
Finish with crumbled feta cheese
For a twist:
Swap the grilled corn for cubed-up watermelon. It sounds a bit weird but trust me, it works.
Grilled portobello mushrooms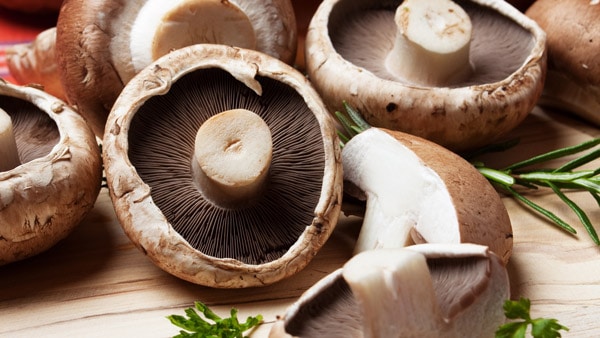 These mushrooms are so meaty that you may end up serving them as a main course. This recipe is super simple, and it's all about the marinade. If you want to inject your shrooms with some real flavour, you'll want to let them sit in this savoury sauce for 20 mins before hitting the grill.
Ingredients
4 portobello mushrooms
Olive oil
Balsamic vinegar
Garlic
Fresh ginger
Salt and pepper
Directions
Make the marinade by mixing together:

3 tbsp olive oil
1 tbsp balsamic vinegar
1 tbsp diced garlic
1 tbsp fresh ginger, diced or sliced
Salt and pepper
Fresh herbs like chives, parsley or thyme

Put 4 whole mushrooms, with the stems removed, into a container or ziplock bag with the marinade and let sit for 20 mins
Remove the mushrooms from the marinade and grill them for 5-8 mins on medium heat. Flip them over and grill on the other side for another 5-8 min
Cut into thick ¼-inch slices and serve right away
If you have any leftover marinade you can drizzle that goodness overtop
Sweet potato wedges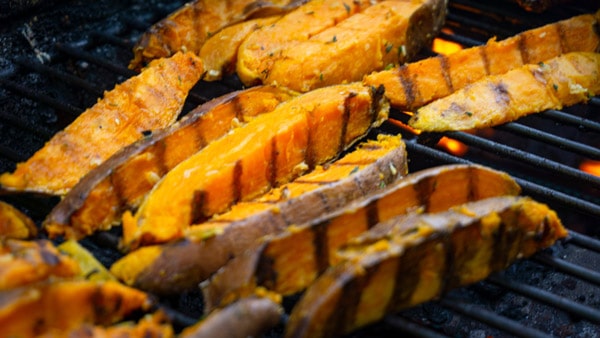 We love fries; everyone loves fries. If you don't love fries, you're either lying or not from this world. Sometimes you want to mix it up a bit, so here's an easy and tasty swap for fries.
Ingredients
6-8 sweet potatoes
Olive oil
Salt and pepper
Cayenne pepper
Cumin
Smoked paprika
Directions
Slice up 6-8 sweet potatoes into wedges
You'll want to boil them before you grill them. Put them in a pot of cold water with salt and crank up the heat. Simmer for 15 mins
Strain off the water, toss in olive oil, salt and pepper, and grill on medium heat for about 10 mins
If you want to amp up the flavour, mix a half a tsp cayenne pepper, 1 tsp cumin, and 1 tsp smoked paprika and sprinkle that over top
If you want to skip the boiling part, you can grill on a lower heat for around 40 mins
The dip
You kinda gotta have a dip to go with these bad boys. To stay on the leaner side, skip the mayo and use yogurt instead.
Mix 1 cup of yogurt, half a lemon, a tsp of garlic powder and a few dashes of your favourite hot sauce. You can also add some fresh dill or chives.
Bonus recipe: grilled veg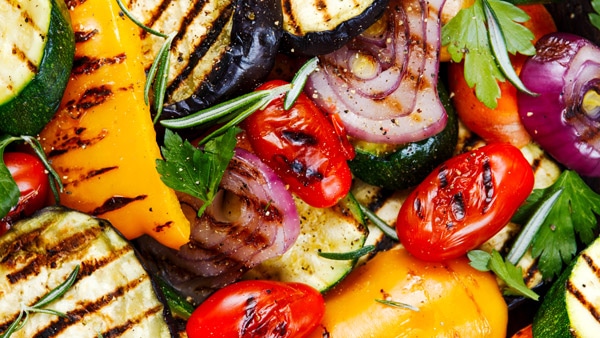 We all know that we need to eat more veg but sometimes we think of them as boring. It turns out that with a little imagination, they can be delicious. Try this simple recipe to spice up your vegetable game.
Ingredients
2 bell peppers
1 zucchini
1 red onion
2 tomatoes
8-10 button mushrooms
Olive oil
Balsamic vinegar
Garlic powder
Lemon
Basil
Directions
Cut up peppers, red onion, and zucchini into large sections and put them in a bowl
Throw in whole button mushrooms and tomato wedges or thick slices
Mix with a little bit of olive oil and salt and grill on a medium heat
Put these on skewers if you want your grill to be a little tidier. I prefer to cut the veg into big pieces and skip the skewers
Cook for about 8-10 mins
Transfer to a bowl and toss in 2 tbsp olive oil, 2 tbsp balsamic vinegar, 1 tsp of garlic powder, half a lemon and basil or any other fresh herb you have on hand
See, I told you eating more veg doesn't have to be boring. Give these recipes a go; your family, friends, and stomach will thank you.
Do you have a go-to side dish when BBQing? Share it with us in the comments below.
What does your health future look like?
Learn your risk level for the 8 most common health conditions that impact men. Free, confidential and takes less than 10 minutes to complete. Take control of your health with Men's Health Check.